Are you looking for the perfect way to package your special hat gift? Whether it's a cozy winter knit beanie, an intricate felt fedora, or something unique in between, gift-giving doesn't have to be complicated – we'll show you just how easy and enjoyable it can be!
In this guide on how to wrap a hat gift, we'll walk you step-by-step through how to choose the best materials for wrapping your hat and tie everything up with a stunning presentation. You'll learn about making bows, tying knots, and creating tag accents for that extra touch of personality – read on to find out all the details!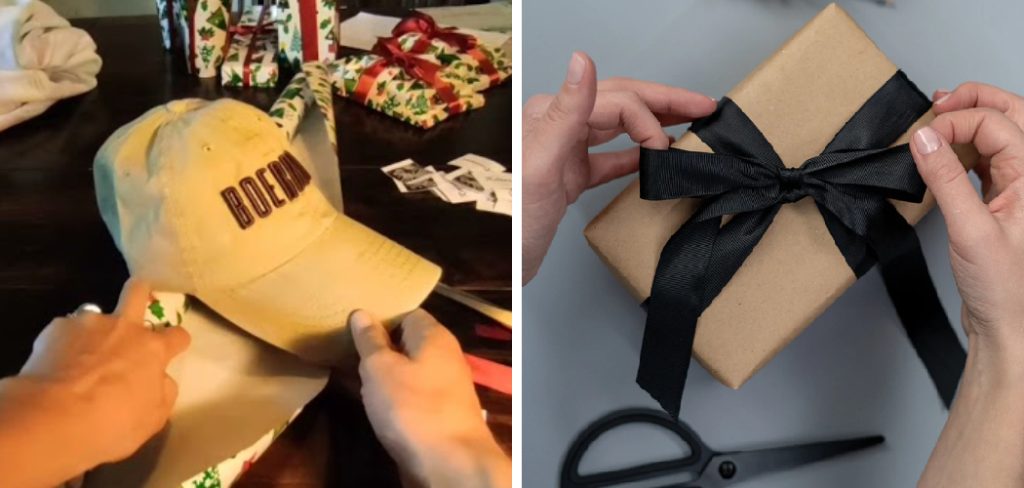 How Do You Wrap a Gift without a Box?
The great thing about wrapping a hat gift is that you don't need to use a box or bag. In fact, it might be better not to use one for this kind of present – instead, you can opt for something more creative and unique. Some materials that work well for this purpose include tissue paper, fabric squares, ribbons, and even large scarves or shawls.
For a truly special finish, choose one of the materials that tie in with the style of hat you're giving – for example, if it's a knitted beanie, then use tissue paper with colorful patterns; if it's a classic fedora, then use a luxurious fabric square or a beautiful ribbon. 
Once you've chosen your materials, it's time to start wrapping! Begin by laying out the material on a flat surface and placing the hat in the center. Fold up two opposite sides of the fabric or paper and tie them together at the top with ribbon.
10 Methods How to Wrap a Hat Gift
1.  Use Tissue Paper
One of the simplest ways to wrap a hat gift is to use tissue paper. Tissue paper is thin and lightweight, making it easy to wrap around a hat without adding too much bulk. Additionally, tissue paper comes in a variety of colors and patterns, so you can find an option that suits the recipient's taste. If you want to make the gift look extra special, you can tie a ribbon around it.
However, tissue paper is typically not strong enough to hold the shape of a hat, so it may need to be secured with other materials, such as packing tape or a sticker.
2.  Use Wrapping Paper
Wrapping paper is another popular option for wrapping a hat gift. Wrapping paper is typically thicker than tissue paper, so it can provide more support and structure for the hat. However, wrapping paper can be more difficult to work with if you are not careful. Make sure to smooth out any wrinkles or creases before wrapping the hat so that it looks its best.
You can also use ribbons, bows, and other decorative items to add a personal touch to your hat gift. However, be sure to use these items sparingly so that they don't overshadow the hat itself. Make sure to also use enough wrapping paper and tape to keep the hat secure during shipping or gifting.
3.  Use a Gift Bag
If you are short on time or do not want to deal with wrapping paper, you can always put the hat in a gift bag. Gift bags come in a variety of sizes and styles, so you should be able to find one that is large enough to fit the hat. You can also find gift bags with handles, which makes them easy to carry.
If you want to make the gift bag look extra special, you can add tissue paper or a ribbon. This is an easy and effective way to give a hat as a gift. Though it may not be as elegant as wrapping paper, it is still a thoughtful way to present the item.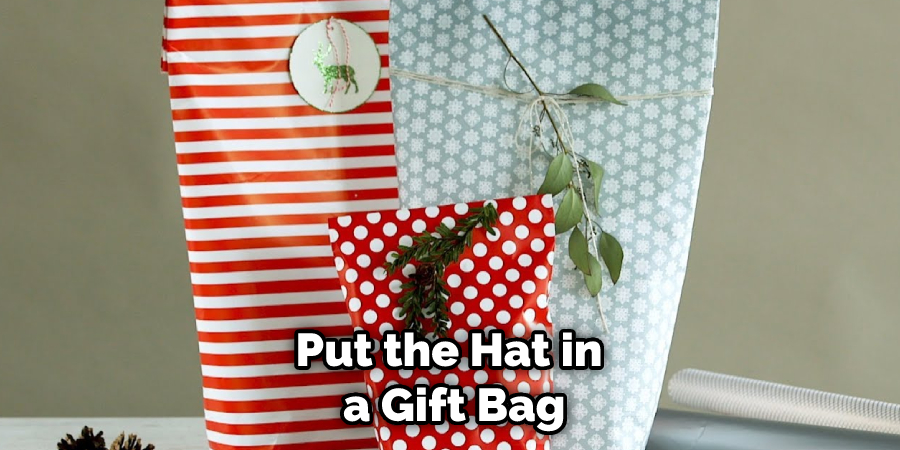 4.  Use a Box
Another option for wrapping a hat gift is to use a box. This method works well if the hat is particularly delicate or if you want to add extra protection. If using a box, make sure to choose one that is slightly larger than the hat so that it has room to move around inside.
You can also line the box with tissue paper or packing peanuts for extra cushioning. While this may be the most protective method of wrapping a hat, it is also the most expensive. If you are looking for a budget-friendly option, then this is not the best choice.
5.  Decorate With Ribbon
Ribbon is a great way to add a personal touch to your wrapped gift. You can use ribbon to tie up the wrapped package, or you can use it to decorate the outside of the package. If using ribbon, make sure to choose one that compliments the color scheme of the wrapping paper or tissue paper. You can even add a bow on top of the package for an extra special touch.
Ribbon comes in a variety of colors, textures, and widths, so find one that fits your style. When tying the ribbon, you can use a simple knot or create a fancier bow depending on the look you are going for. This is also a great way to reuse any leftover ribbon you may have from other gifts.
6.  Add a Card
Another way to personalize your wrapped hat gift is to add a card. You can either attach the card directly to the outside of the package or place it inside the package before wrapping it up. If adding a card, make sure to write a thoughtful message that expresses your sentiments for the occasion. This will add an extra special touch to your gift and show the recipient how much you care.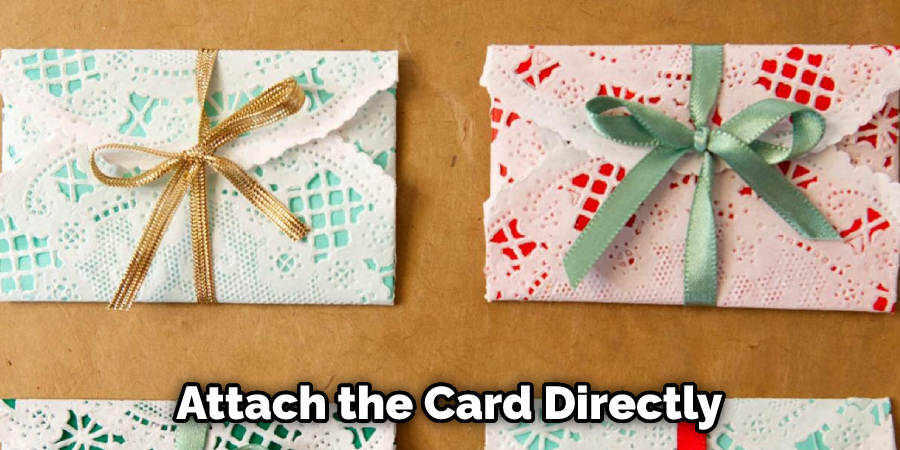 7.  Make a Bow
Bows can transform a plain-wrapped hat gift into something special. Bows come in all shapes and sizes, so you should have no problem finding one that suits your needs. You can purchase pre-made bows or make your own using ribbon or fabric. Once you have the bow prepared, attach it to the package, and you're all set!
8.  Use Scarves or Shawls
If you want to give the recipient an extra luxurious experience, consider wrapping the hat with a scarf or shawl. This method is especially effective if the hat has an elegant design. You can use thin scarves to create a more subtle look or thicker shawls for added warmth and style.
The fabric can be matched with the hat material to create a unified look, or you could select contrasting fabrics for a bolder style. No matter which look you choose, the scarf or shawl will add an extra layer of warmth and protection to the hat.
9.  Use Tags
You can also add tags to the outside of your wrapped gift. Tags are a great way to provide additional information about the hat or simply add a creative touch. You can use store-bought tags or make your own using scrapbook paper and markers.
Be sure to include the recipient's name, a special message, or a clever phrase. The tags can also be used to identify what gift is inside if you're creating a gift basket. Tags can add the perfect finishing touch to your wrapped gifts, so be sure to consider adding them.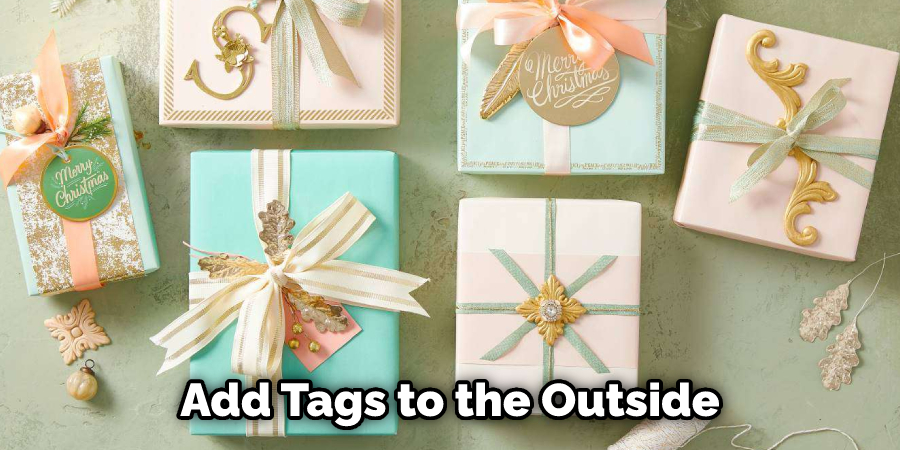 10.  Add a Gift Tag
Finally, you can add a gift tag outside your package. This is an easy way to identify who the gift is for and what it contains without having to open it up first. You can find pre-made gift tags at most craft stores or make your own by writing on cardstock with markers or pens.
No matter your chosen method, wrapping a hat gift does not have to be difficult. With these ten methods, you should have no problem finding one that suits your needs and the recipient's style. Have fun and be creative!
You Can Check it Out to Crochet Around a Ring
Things to Consider When Wrapping a Hat Gift
1. Choose High-Quality Wrapping Materials.
Wrapping paper, ribbons, and other materials should be of the highest quality. This will ensure that your hat looks its best when it is opened.
2. Use a Hat Box or Gift Bag for Protection.
Using a gift bag or hat box will help protect the hat from damage during delivery and storage. This will also add an extra layer of sophistication to the gift presentation.
3. Include Custom Accessories or Add-ons with Your Hat Gift Wrap.
Adding custom accessories like pins, patches, or other trinkets can make your gift even more special and unique. It's also a great way to express your own personal style while still presenting a cohesive look overall.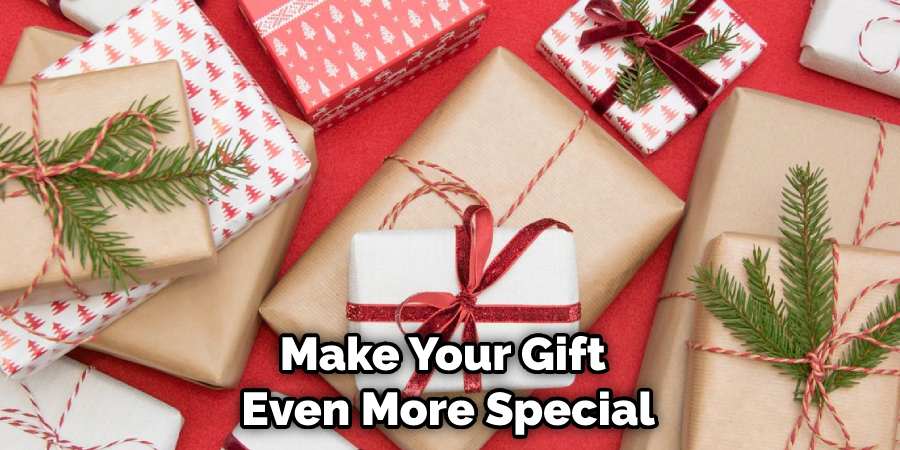 Conclusion
Learning how to wrap a hat gift can be easy and fun! With these ten steps, you'll be able to finish your holiday shopping in no time flawlessly. And who knows, maybe you'll even enjoy it so much that you'll want to keep doing it long after the season ends. So go out there, pick up some supplies, and get wrapping!
You Can Check It Out To Make Paper Fireflies