Are you looking to make something special for your furry companion? Look no further than homemade crochet cat toys!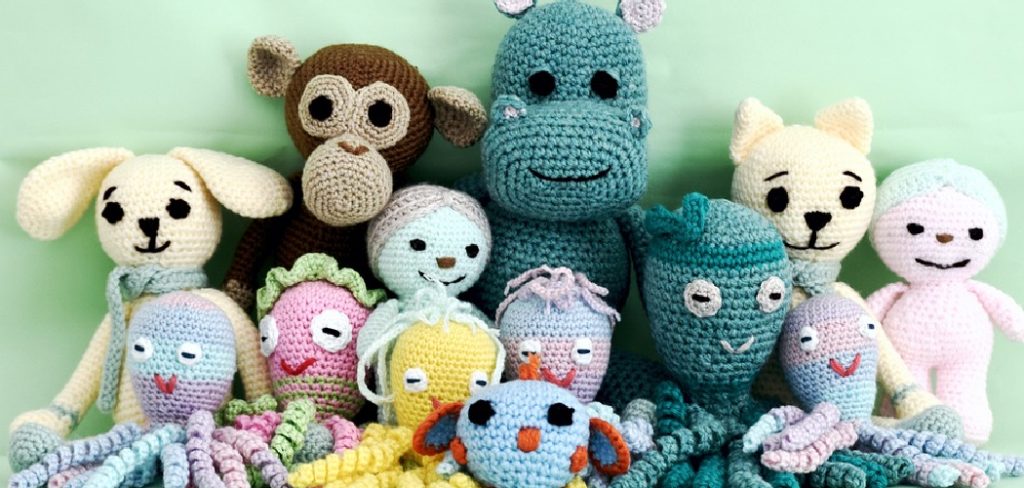 With a few supplies, some creativity, and step-by-step instructions, you can make unique playthings that will keep your kitty engaged while they hone their natural skills. Get ready to get your hook and yarn out because we're about to explore how to crochet cat toys!
Can You Crochet Cat Toys?
Yes, you can crochet cat toys! Not only are they great fun to make (with lots of online tutorials available to help you), but they also provide hours of entertainment for your feline friend. With all the different patterns and colors available, crafting something unique and special just for your cat is easy.
Smaller, tactile toys like puff balls or crinkle stems are great toys – cats love having them in their mouths, and they can keep them entertained for extended periods of time. So why not give it a try? Crocheting cat toys can be both rewarding and enjoyable – plus, your cat will thank you!
Why Should You Crochet Cat Toys?
Crocheting cat toys is an enjoyable, therapeutic activity that can bring great joy to both you and your feline friend. Not only will you create a unique, handmade toy for your pet, but crocheting also provides an opportunity to express yourself creatively with various fiber arts.
Furthermore, crocheting cat toys can be more affordable than store-bought alternatives since you'll have complete control over which materials are used. Most notably, once the toy is crafted, it can be kept and loved by your beloved pet for years to come as a small reminder of your creative skill.
What You Need
Before beginning, there are a few items you will need in order to make the perfect crochet cat toy. First, you will need some yarn. You can choose any color or type of yarn that you would like. However, remember that lighter colors may be easier for cats to spot when playing with the toy. Second, you will need a crochet hook.
For the purposes of making these toys, use a smaller-sized hook such as size E/3.5mm or F/3.75mm; this will help ensure that your stitches remain tight and secure. Finally, if desired, add stuffing such as polyester fiberfill or cotton balls into your handmade cat toy to give it some padding and shape.
7 Steps to Follow on How to Crochet Cat Toys
Step 1. Choose the Right Yarn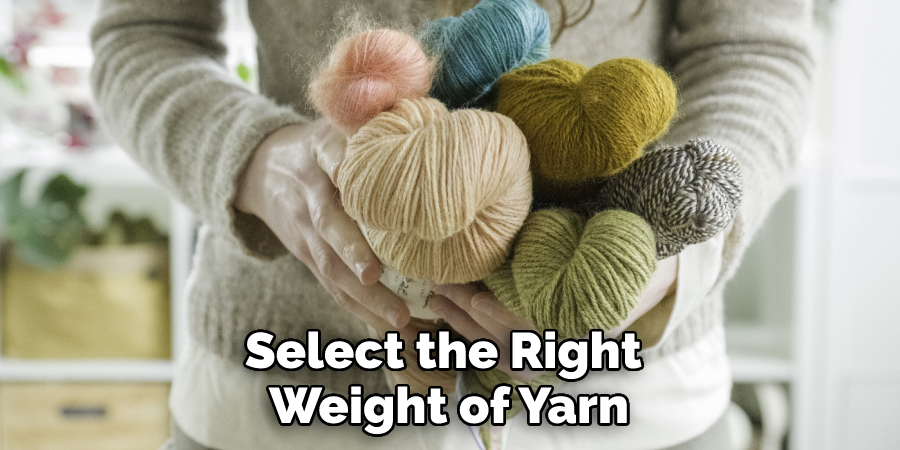 You want to choose a soft, durable, and washable yarn. Some good choices are acrylic or cotton yarns. It's also important to select the right weight of yarn for your project; if you're making a small toy, it may be best to use lighter-weight yarn so the stitches won't be too bulky.
Step 2. Choose the Right Crochet Hook
You'll need to select a crochet hook that is suitable for the yarn you are using and match the size of your crochet stitches. A good rule of thumb is to use the largest crochet hook that fits comfortably in your hand when crocheting with your particular yarn weight.
Step 3. Crochet a Tight Stitch
When you're crocheting cat toys, it is important to tight crochet stitches so the stuffing will not leak out and that your cat toy will be durable enough to withstand lots of playtimes. To do this, use a smaller hook than what is recommended for the particular yarn weight you are using and pull the yarn tight as you work.
Step 4. Make Sure There Are No Loose Ends
When you're finished crocheting, secure all your stitches by weaving in any loose ends or tying off any extra strands of yarn. This will ensure that your cat toy will not unravel and that it is strong enough to withstand playtime.
Step 5. Choose the Right Stuffing
You want to ensure your cat toy is safe for your pet, so use polyester fiberfill or cotton stuffing as a safe alternative to wool stuffing. When you're finished, be sure to check the toy for any potential choking hazards before giving it to your cat.
Step 6. Sew the Toy Shut Securely
To make sure that your cat toy is securely sewn shut and will not come apart during playtime, use a strong thread such as embroidery floss and sew the edges of the crochet piece together completely.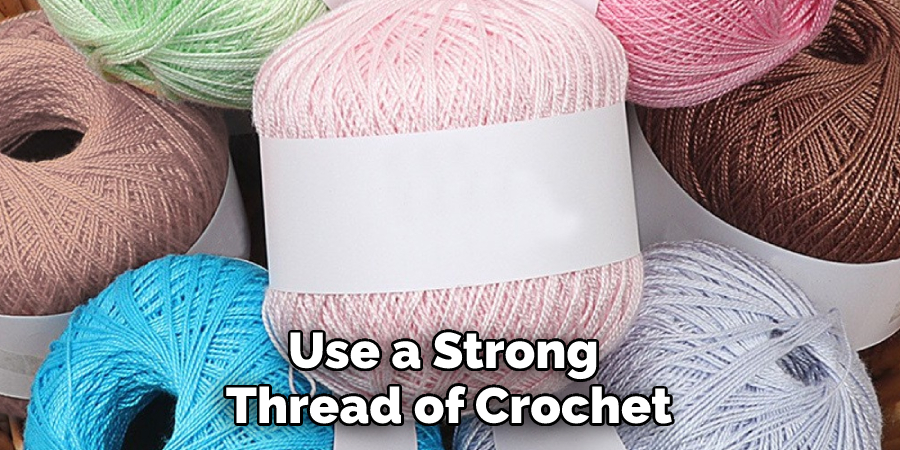 Step 7. Test the Toy Before Giving It to Your Cat
To ensure your cat toy is safe, test it out by giving it a good tug and squeezing it firmly with your hands. If the toy holds up and stays securely sewn together, then you can be confident that it is safe for your pet. Now all that's left to do is watch your cat enjoy playing with their new toy!
That's it! You've now learned how to crochet cat toys from scratch. With a little practice and patience, you'll be able to create beautiful, handmade cat toys that will bring your pet hours of joy.
And the best part is that you can customize the colors and fibers used so each toy can be unique and special for your furry friend! So get crocheting today—your cat will thank you!
Things You Need to Know Before Crocheting Cat Toys
Crocheting can be a rewarding and fun hobby for experienced crafters, but it isn't without its own unique set of challenges. Before you start crocheting cat toys, there are a few key things to consider. Some important elements to factor in include the size of the toy and the type of yarn used.
Smaller cats may not prefer larger toys, so using the right-size materials is essential. Similarly, some types of yarns are better suited to crafting cat toys than others. Another point to remember is that cats may get bored with their new toy more quickly if they don't seem all that interesting.
To combat this, you can utilize multiple colors or textures when making them, like adding decorative touches such as embroidered elements or braided materials. Ultimately, working with these components will help ensure your projects turn out exactly as expected – happy and entertained kitties!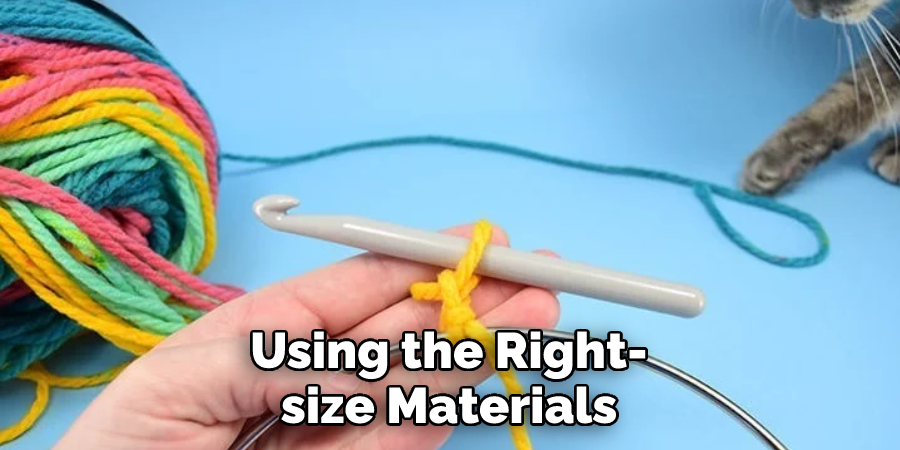 Benefits of Crocheting Cat Toys
Crocheting cat toys is a fun and rewarding activity that can provide both cats and their owners with endless hours of entertainment. Not only will these handmade items help to keep cats physically active, but also mentally stimulated as they chase after colorful toys.
In addition, crochet toy-making allows for an opportunity for creative expression—from picking out playful designs to selecting whimsical accents like bells or jingles.
Plus, crocheted cat toys often last longer than commercially made ones and cost less in the long run due to their durability. If you were thinking of getting into crocheting cat toys, go ahead! Your four-legged best friend will thank you later.
6 Common Mistakes People Make When Trying to Crochet Cat Toys
1. Not Using the Right Yarn
One of the most common mistakes people make when crocheting cat toys is using the wrong type of yarn. The best type of yarn for cat toys is 100% cotton yarn, which is soft and durable. Acrylic yarns should be avoided, as they can irritate a cat's skin.
2. Not Using the Right Hook Size
Another common mistake people make when crocheting cat toys is not using the right hook size. The hook size should be based on the thickness of the yarn being used. For example, if you use worsted-weight yarn, you will need to use a size H (5 mm) hook.
3. Not Crocheting Tightly Enough
Another mistake people make when crocheting cat toys is not crocheting tightly enough. It is important to crochet tightly so that the stuffing does not show through the stitches. The toy will also be less durable if the stitches are too loose.
4. Not Stuffing the Toy Properly
It is important to stuff the toy firmly to keep its shape and not fall apart easily. However, you should avoid stuffing the toy too tightly, as this can make it uncomfortable for your cat to play with.
5. Not Adding a Squeaker
Many people forget to add a squeaker to their crocheted cat toys, but this is an important step! Cats love toys that make noise, and a squeaker will help to keep your cat's attention focused on the toy. Squeakers can be found at most craft stores or online.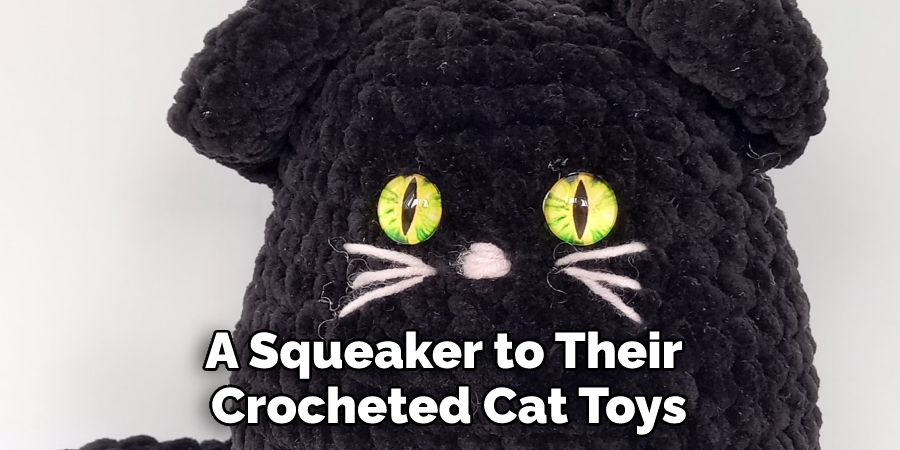 6. Not Adding Catnip
The final mistake people often make when crocheting cat toys is forgetting to add catnip. Catnip is a herb that attracts cats and helps to keep them interested in their toys. You can purchase dried catnip at most pet stores or online.
Conclusion
Making homemade cat toys doesn't have to be difficult or time-consuming; all it takes is some basic crochet knowledge and supplies, and you can have an adorable new toy ready in no time!
Whether your feline friend loves chasing after balls or cuddling up with pillows, these handmade creations will surely bring lots of joy into both of your lives! So grab those hooks and get ready…it's time for some crocheting fun! Thanks for reading our post about how to crochet cat toys.
You Can Check It Out to Seal Air Dry Clay