Are you intrigued by the history, culture, and mysterious power of voodoo dolls? If so, why not learn how to craft your own? Crochet is an easy skill to master and a great way to make your very own customized voodoo doll.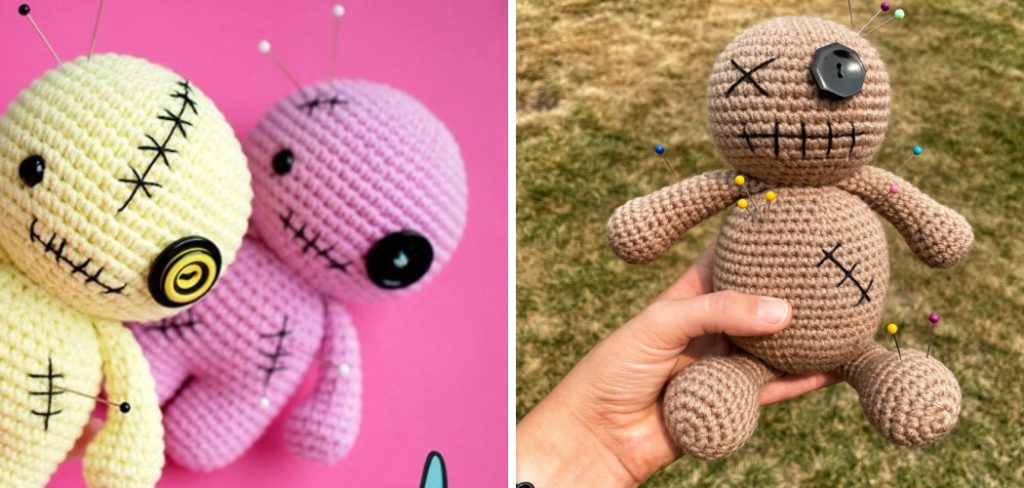 It may sound intimidating at first but don't worry – this blog post will show you the basics of how to crochet a voodoo doll. We'll cover everything from the materials needed to the finishing touches in order to get you crochet-ready for this fun project. So grab some yarn, roll up those sleeves, and follow along as we teach you how to make a personalized voodoo doll!
Is It Hard to Crochet Dolls?
Crocheting a voodoo doll is not too difficult. Even if you are just starting out with crochet, you can learn the basics quickly and create your own dolls. It might take some practice to perfect the techniques, but crocheting dolls is an enjoyable craft that can be picked up relatively easily. 
Start with some basic patterns and use colorful yarns to make your project more interesting. With just some basic crochet skills and a bit of creativity, you can make one-of-a-kind dolls that are sure to impress. Choose the right materials and tools for this project to ensure that it turns out perfectly. The most important thing is to have fun while creating your voodoo doll!
10 Methods on How to Crochet a Voodoo Doll
1. Gather Your Supplies
You will need yarn or stuffing, plastic safety eyes (optional), a crochet hook, and scissors. These supplies can be found at most local craft stores. If you don't have access to a craft store, you can find yarn and plastic safety eyes online.
2. Start by Crocheting a Small Circle
Create a small, tight circle to be the base of your voodoo doll. This can be done by crocheting four or five single crochet stitches into a slip knot, then working those stitches in continuous rounds for several rounds. 
Alternatively, you could use a magic loop method to create a small circle. You can adjust the size of your voodoo doll by increasing or decreasing the number of single crochet stitches you make in your small circle.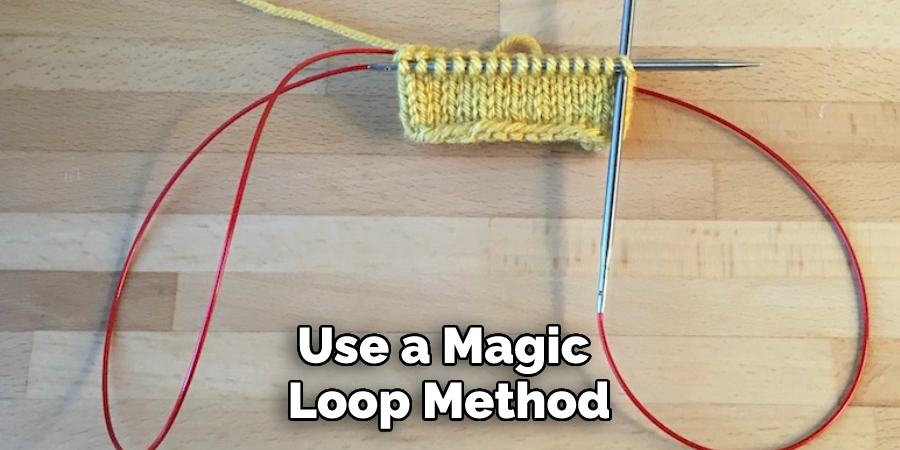 3. Crochet a Body for Your Doll
Start the body by crocheting a long lineup, making sure to keep your stitches tight. This will be the body of your doll. When you have reached the desired length of your doll's body, chain one stitch and turn your work. 
If you want your doll to be more than just a ball, you can crochet in rows. To do this, single crochet across the row and then chain one stitch and turn your work again. Continue this process until you have the desired width of your doll's body.
4. Add Arms and Legs
Crochet a few short lines for arms and legs. Make sure the arms and legs are close to the body, as you don't want your voodoo doll to be too lanky. To make the arms and legs, ch 3.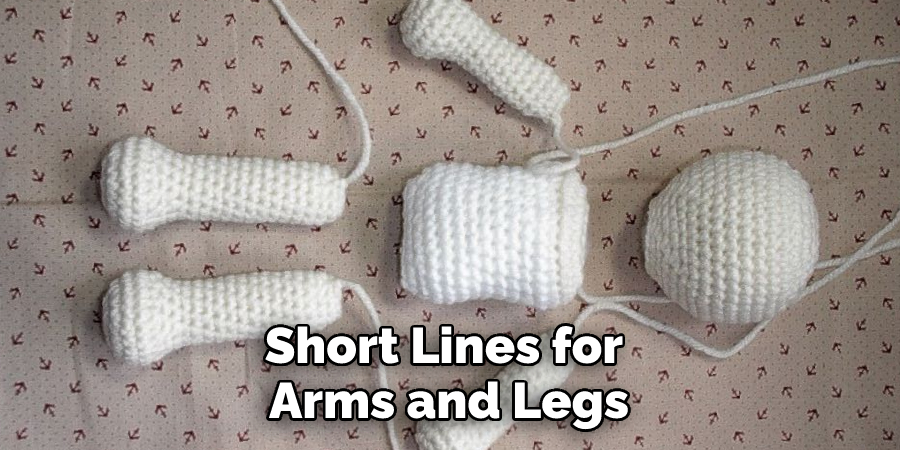 Then, sc in each st beginning with the second chain from the hook. You should end up with a small line of stitches, about 4 inches long. To make the arms and legs slightly thicker, you can add a second row of sc. When you've finished the arms and legs, fasten them off but leave a long tail for sewing.
Use the same color yarn as you used for the body and stitch the arms and legs onto the sides of your voodoo doll. Secure each arm or leg to the body by carefully stitching around it with the yarn and needle. 
Make sure they're secure before tying off. You can also sew on a few buttons for the eyes, nose, and mouth. Be creative with your doll's features, and don't forget to give it some personality!
5. Stuff Your Doll
Use stuffing or yarn to fill in the body of your doll, making sure not to stuff it too full. You want your doll to still be able to move around comfortably. Use a blunt needle or crochet hook to help push the stuffing into the doll. 
Then, use a running stitch to secure the opening closed. However, if the opening is too small, use a whip stitch to close it instead. When you're finished stuffing your Voodoo Doll, tie a knot to secure the end of your thread.
6. Create a Face for Your Doll
This is where you get creative! Add some plastic safety eyes, embroider a nose or even create a smiley face with felt fabric markers and glue. Then you can add some extra accessories like a bowtie, a headband, or a hat. 
The possibilities are endless! When you're done, you can attach the face to your crochet doll with a few stitches, and voila! Your very own voodoo doll is complete.
7. Add Hair for Your Voodoo Doll
To make hair for your voodoo doll, use worsted-weight yarn and crochet a small rectangle. Then, cut into the center of it to make short strands of hair. Hot glue this onto your doll's head.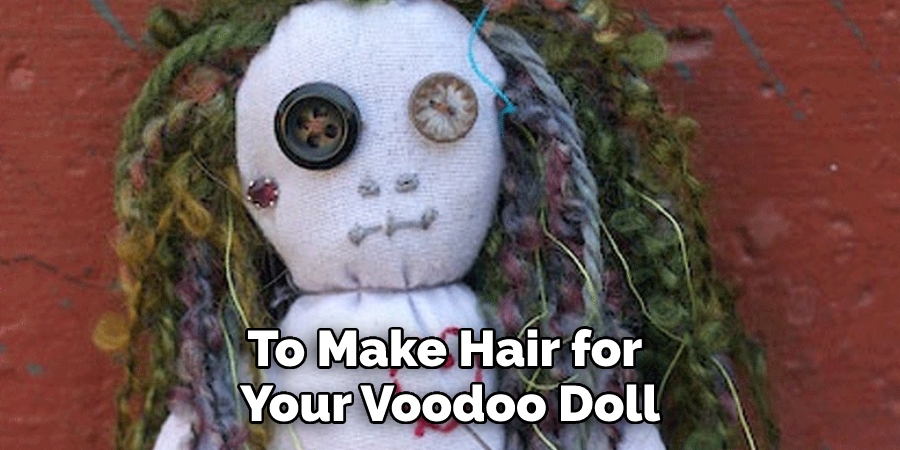 With a felt tip pen, draw on some eyebrows and lips to personalize your voodoo doll. Then, you're done! Your one-of-a-kind voodoo doll is ready for whatever magical purpose you have in store for it.
8. Crochet a Colorful Outfit
To really bring your voodoo doll to life, you can add some fun clothing for them. Use different colors of yarn to create little skirts or even hats and scarves! Additionally, if you have any fabric scraps lying around, even smaller pieces will work. 
Sew them on or use the same crochet stitch to attach them to your doll. Make sure to use your imagination and create an outfit that will make your doll look unique. When you're done, show off your voodoo doll for everyone to admire! With all the different colors and textures, it's sure to be a one-of-a-kind creation.
9. Make Accessories for Your Doll
Get creative and embellish your dolls with accessories like jewelry, purses, shoes, and more! This is all up to you—have fun making it unique! When you're done, your voodoo doll is ready to be used for whatever purposes you need. Whether that be a fun, decorative item or a powerful conduit for energy, your doll is yours to control.
10. Finalize Your Voodoo Doll
Once all the pieces are added together, and your voodoo doll is complete, you can add some touches of embellishment or extra accessories. Though not necessary, you can use decorative beads or ribbons. A classic touch is to add pins to the doll's body as an extra feature that helps. If you do decide to use pins, however, ensure that they are only used with care and never harm the doll.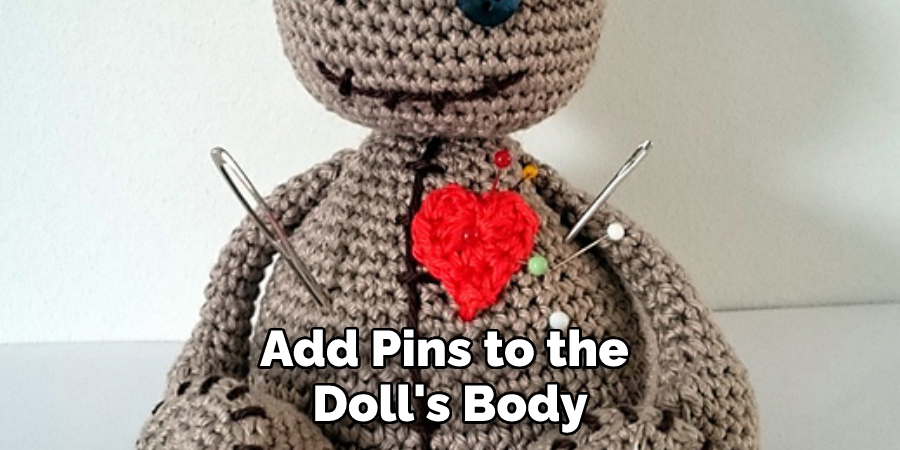 Congratulations! You just learned how to make a crochet voodoo doll from scratch. With a bit of practice and creative energy, you can make your doll look exactly how you want it. Have fun!
Things to Consider When Crocheting a Voodoo Doll
1. Choose the Yarn for Your Voodoo Doll Wisely-
You want to make sure it is strong enough and long-lasting, even if it is made from a lightweight material such as acrylic or cotton. Additionally, choose a yarn that complements your design and desired outcome for the doll.
2. Experiment with Different Textures
You can choose to use chunkier yarn for a more pronounced effect, or you can opt for a smoother yarn for a softer look. By experimenting with different textures, you can create a unique design that reflects your own personal style.
3. Incorporate Embellishments
Adding embellishments such as ribbons, buttons, beads, or sequins can add an extra touch of interest to your Voodoo Doll. For example, adding colorful ribbons to the hair of your doll can give it a fun and festive look.
4. Research the Meaning Behind Your Voodoo Doll
Before you begin crocheting, take some time to research what your Voodoo Doll will represent. This will help you ensure that all design elements are integrated with the overall theme and message of your project.
5. Be Creative
Have fun with the design of your Voodoo Doll, and don't be afraid to try something new! You can even experiment with different color combinations or create unique patterns for a truly one-of-a-kind look. As long as you keep your design consistent with the overall theme, you can have fun creating your own unique Voodoo Doll.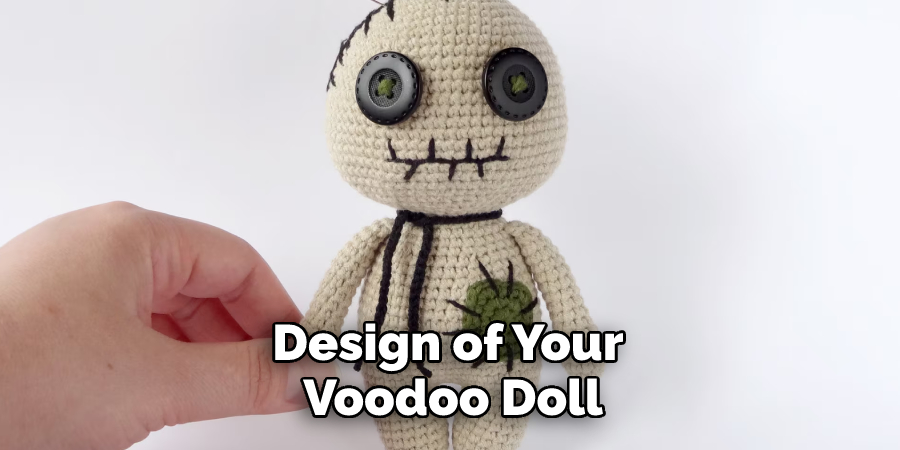 6. Consider the Size of Your Doll
Depending on the size of your doll, it may require more or less yarn. Make sure you take this into account when planning out your project, as well as any embellishments you plan on adding.
You Can Check It Out To Crochet a Flamingo
Conclusion
Now that you know how to crochet a voodoo doll, you can make one for any occasion! Birthdays, anniversaries, Christmas, or just because—voodoo dolls make great gifts for anyone on your list. 
These little charms are also perfect for personal use; keep one in your purse to protect yourself from negative energy or hang one in your car to ward off road rage. Whether you want to display your handiwork proudly or keep it under wraps, crocheting a voodoo doll is a fun and easy way to add some magic to your life.
You Can Check It Out to Crochet Bell Sleeves