Are you looking to learn how to crochet bell sleeves? Then you've come to the right place. Bell sleeves are a popular style of sleeve that can be crocheted onto any type of garment.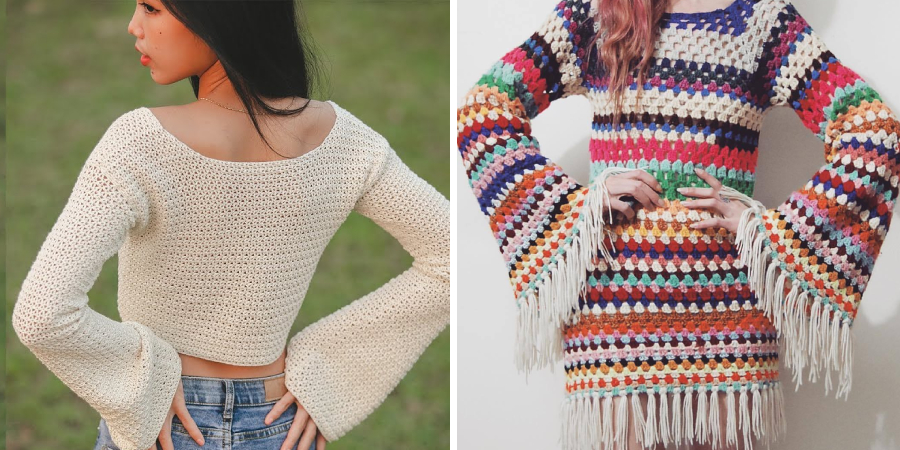 Crochet bell sleeves are the perfect accessory for adding a touch of on-trend style to any outfit. Whether you're looking to add some extra warmth to your favorite cardigan or adorning an army jacket with a handmade crochet design, these billowy sleeves offer plenty of visual interest that catches the eye and gets noticed.
In this blog post, we'll show you step by step how to create your own beautiful bell sleeve pattern – no matter what type of garment it's going on! So grab your yarn and needles, and let's get started!
What Will You Need?
For this project, you'll need the following:
Yarn (in the color of your choice)
Crochet hook
Needle and thread
Scissors
Once you have all the needed materials, let's move on to how-to instructions.
10 Easy Steps on How to Crochet Bell Sleeves
Step 1: Measure Your Sleeve
The first step is to measure the sleeve of the garment you plan to add crochet bell sleeves. Measure from your shoulder to where you want the bell sleeve to end, and ensure you have enough yarn for your project. Be careful not to cut the yarn too short!
Step 2: Single Crochet
Starting at the cuff, chain 20 stitches. Then single crochet in each stitch across until you reach the other side of the cuff. When you've finished this row, turn your work and repeat this process until the desired length is reached.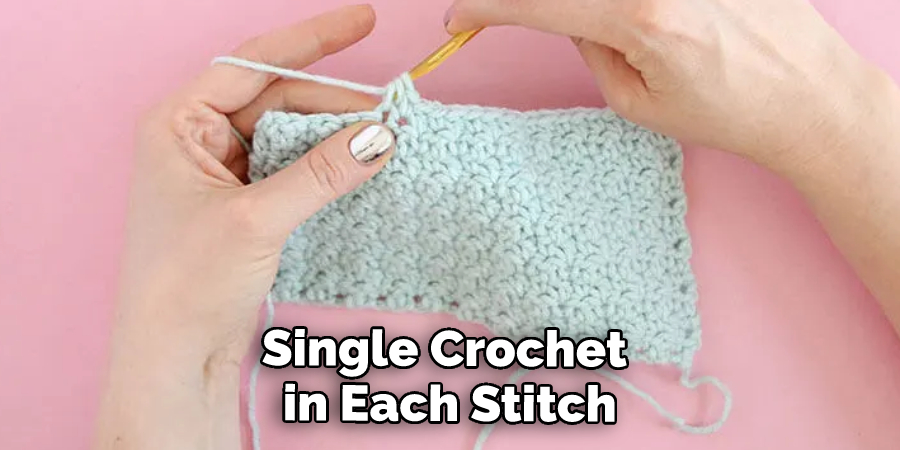 Step 3: Increase Stitches
Once your desired length has been achieved, it's time to increase stitches to create a bell shape for your sleeve. To do this, single crochet two stitches into the second stitch from the hook and then single crochet in each remaining stitch. This will increase your total number of stitches by one.
Step 4: Increase Stitches Again
To create a more bell-shaped sleeve, you'll need to increase your stitches again. To do this, single crochet two stitches into every other stitch across the row until the desired length is reached. Don't forget to turn in your work and repeat this process until the end of the row!
Step 5: Decrease Stitches
Once you reach the desired length for your bell sleeve, it's time to decrease your stitches to create an even shape at the top of your sleeve. To do this, single crochet together two stitches at a time until only three or four remain. Cut off excess yarn and weave in the ends.
Step 6: Attach Sleeve To Garment
Now that you've completed your bell sleeve, it's time to attach it to the garment of your choice. Using a needle and thread, sew the sleeve onto the garment in small stitches around the edge. Make sure to secure each stitch before moving on to the next one.
Step 7: Add Decorative Edging (Optional)
If desired, add an extra touch of detail by crocheting a decorative edging around the cuff of your bell sleeve. This can be done using any stitch pattern you prefer – from scallop shells to popcorn stitches! Experiment with different patterns until you find something you love.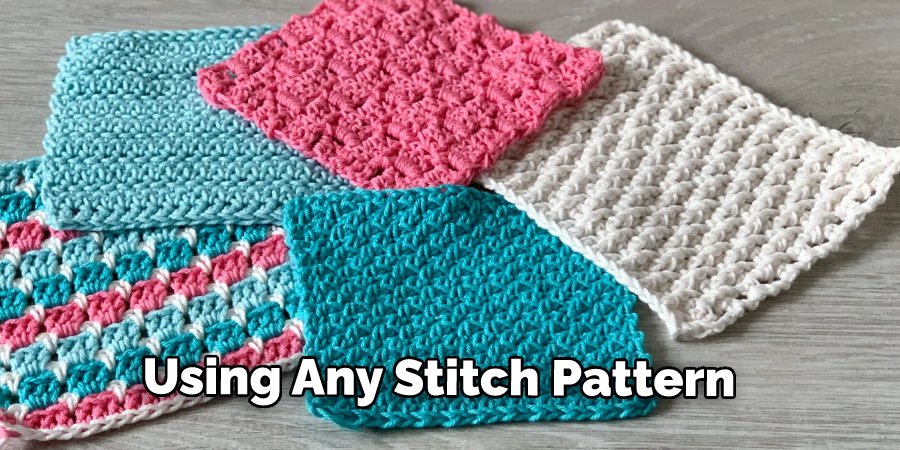 Step 8. Weave in Ends
When you've finished adding your decorative edging, it's time to weave in any remaining ends. Use a tapestry needle and thread to secure the yarn tails into the back of your work. This will help ensure that your bell sleeve looks neat and tidy when worn.
Step 9: Block Your Work (Optional)
Once you've completed all stitching and weaving, block your work. This is an optional step, but it can be beneficial for giving your work a professional finish. Pin down the sleeve edges with pins or T-pins before spritzing or steaming lightly with warm water. Allow cooling completely before unpinning and wearing!
Step 10. Enjoy!
Congratulations, you've made a beautiful bell sleeve pattern! Now, all that's left to do is enjoy your new creation and show it off in style. Whether you wear it to the office or out for dinner, this unique piece of crocheted apparel will make any outfit look special. Happy crocheting!
By following these ten easy steps, you'll be able to crochet beautiful bell sleeves in no time! You can create any design or pattern you dream up with patience and practice. So grab your yarn and needles and get crafting!
You Can Check It Out To Crochet a Voodoo Doll
5 Additional Tips and Tricks
Make sure to use the same size crochet hook throughout the project, as this will ensure consistency in stitches.
Before starting your sleeves, practice making the stitch a few times and make sure that it is correct even before beginning.
Use pins or stitch markers to keep track of how many rows you have done so far.
When working on the cuff of the sleeve, remember to pull tight after each row so that the fabric doesn't stretch out while crocheting.
If you are having trouble understanding any part of the pattern or technique, don't be afraid to research online or ask someone with more experience for help!
With some patience and practice, you can easily create beautiful bell sleeves! Follow the steps and tips above to get started on your crocheting journey. Happy crafting!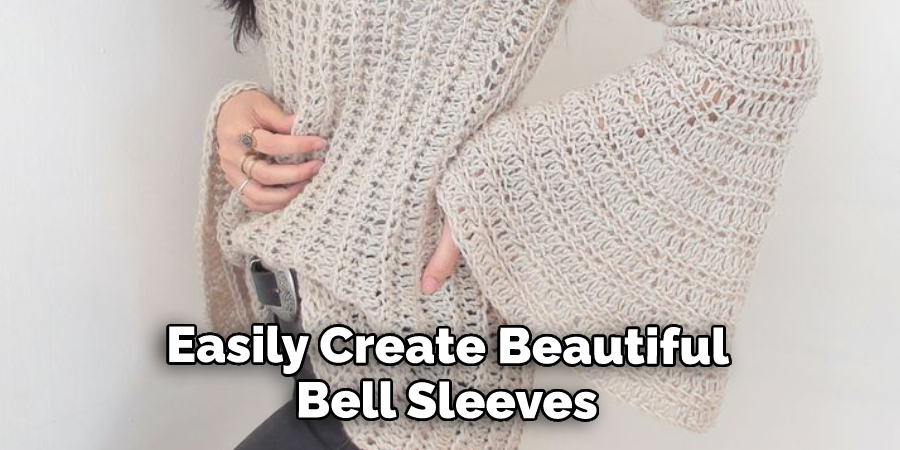 5 Things You Should Avoid
1. Don't Make Your Sleeve Too Short: If it is too short, it won't create the bell shape you're looking for. Aim for a length that reaches just above the wrist, and be sure to check how it looks when worn.
2. Avoid Using Too Small of a Hook Size: Using too small of a hook size can make your bell sleeves look stiff and inflexible rather than soft and flowing as they should be. Try using a slightly larger hook size to ensure you get the desired effect.
3. Don't Skimp on Yarn: You need to use enough yarn so that your bell sleeves look full and voluminous. Otherwise, they won't give off any drama or flair.
4. Don't Forget to Try It on: Not trying on the bell sleeves while you are making them can lead to a poor fit and an unflattering silhouette. Make sure you check how they look when worn- don't just trust your eyes!
5. Avoid Rushing: Taking your time when crocheting bell sleeves is important, as this will ensure that every stitch looks perfect and even. Rushing through can result in uneven edges or sloppy stitches, so make sure to slow down and take your time with each process step.
With these tips and tricks in mind, you'll be able to create beautiful bell sleeves easily! So grab your yarn and needles and get crafting!
Are Bell Sleeves Out of Fashion?
The short answer is no! Bell sleeves are definitely not out of fashion and have been popular for years. In fact, they have recently made a bit of a comeback, with many celebrities and influencers sporting them in their outfits. This trend can easily be worked into both casual and formal looks – perfect for any occasion!
While bell sleeves may take some time to make, the effort will be worth it when you see how unique and stylish your creation is. So don't worry about following trends- bell sleeves are always in style!
Bell sleeves are easy to make and look great on any outfit. With these tips, you'll be able to create a beautiful pair of bell sleeves in no time! So grab your yarn and needles and get crafting! Happy crocheting!
What Fabrics Are Best for Making Bell Sleeves?
When it comes to fabrics, there are several options that work best for creating bell sleeves. Natural fibers such as cotton and linen are lightweight and breathable, so they are perfect for summer months when you want to keep cool. Wool is also a good choice because it's durable and warm- great for winter outfits!
You can also experiment with different weights of fabrics like jersey or silk if you're looking for something more special. These materials are lightweight and have a drapey quality which will help the bell sleeves look soft, voluminous, and flowy. Whatever fabric you choose, make sure it is flexible enough to move easily with your body movements!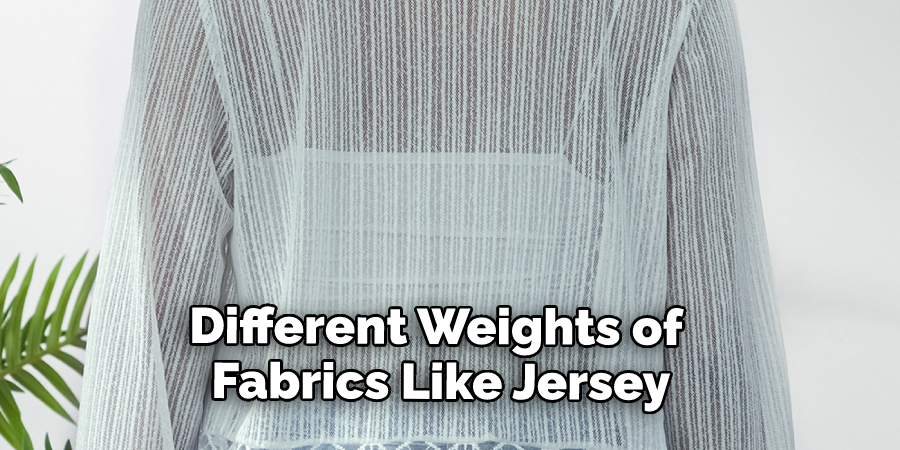 With these tips in mind, you'll be able to find the perfect fabric for your bell sleeve project. So don't be afraid to experiment and have fun with it! Happy crafting!
Conclusion
It can be tough to create the right size and length of sleeves. However, crocheting bell sleeves gives you the creative freedom to make them as unique or basic as you wish. When executing this pattern, ensure that the fabric is not too tight and your crochet techniques are correct. There is a variety of options when it comes to stitching techniques and yarns to use for crocheted bell sleeves.
Even if it's daunting at first, with practice comes perfection. With patience and creativity, crafting your bell sleeves can be easily achievable. Whether you make them for yourself or someone close to you, creating beautiful designs will bring joy in any situation.
Hopefully, these tips and tricks on how to crochet bell sleeves have been helpful in creating the perfect bell sleeves. So don't forget to have fun and get creative with your design! Good luck, and happy crocheting!
You Can Check It Out to Block Crochet Cotton