Throw pillows are an easy way to add color and style to any room, but sometimes it can be challenging to find the right pillowcase that fits your pillow. Making your pillowcase will save you money and give you a sense of accomplishment. In this beginner's guide, we will show you how to sew a pillowcase with flap.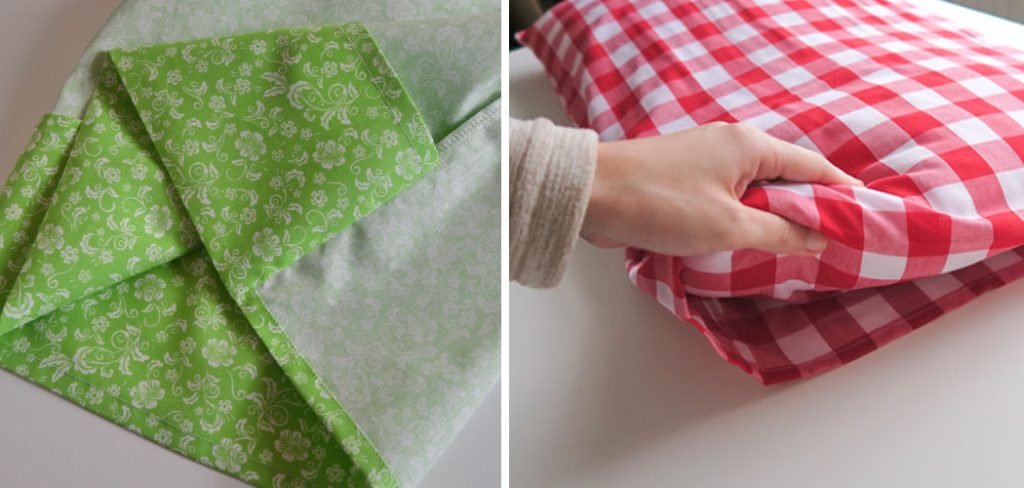 Can You Sew a Pillowcase with A Flap?
Sewing is an incredibly fun and practical hobby that allows you to create personalized items. Pillowcases are one of the simplest and most versatile projects you can undertake as a beginner. But have you ever considered adding a flap to your pillowcase? It will give it a unique and professional look and serve the important function of keeping your pillow secure and snug inside.
This article will guide you through sewing a pillowcase with a flap step-by-step. So dust off your sewing machine and get ready to create a one-of-a-kind pillowcase that will impress your family and friends.
Why Should You Sew a Pillowcase with A Flap?
Sewing a pillowcase may seem daunting, but the benefits are numerous when you add a flap to the design. The flap ensures your pillow stays in place, preventing any annoying shifting or slipping during sleep. This added feature also helps to protect your pillow from dirt, dust, and other potential allergens.
Plus, the flap gives your pillow a sleek and professional look, making it an attractive addition to any bedroom decor. Whether you're a seasoned seamstress or a beginner, sewing a pillowcase with a flap is a project worth taking on. The result is a comfortable, functional, and stylish pillowcase you'll love.
How to Sew a Pillowcase with Flap – A Beginner's Guide
1. Choose a Fabric
First, choose the fabric you want to make your pillowcase from. Cotton, flannel, or linen are great choices. Make sure you buy enough fabric according to the size of your pillow. Once you have your fabric, measure your pillow and cut two pieces – one for the front and one for the back of the pillowcase.
2. Hemming
Hem three sides of both pieces of fabric. Fold the edge of the fabric half an inch and then again for another half an inch. Pin the fabric's edge and sew it using a straight stitch.
3. Draft Flap Pattern
On the remaining side, draft a pattern for the flap. Cut a piece of paper according to the width of the pillowcase's edge. Fold it in half and draw a line perpendicular to the fold. Add seam allowance. This line should be shorter than the pillow's width. Cut the flap fabric and hem one side of the flap.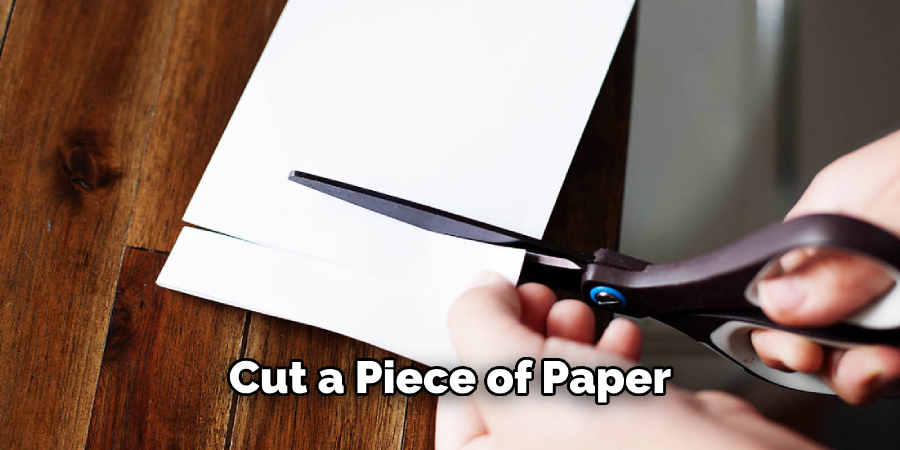 4. Attach Flap Fabric
Pin the flap fabric to the back of one hemmed piece, leaving a small overlap on the pillowcase's edge. Sew the flap along the pillowcase edge and stitch along the length of the flap. Turn the pillowcase inside out.
5. Sew the Two Pieces Together
Pin the two hemmed pieces together, right sides facing each other. Make sure you align the corners of the pillowcase and the flap. Sew three sides, stop sewing just before the flap, and leave room for turning the pillow inside out. Turn your pillowcase inside out, and voila! Your pillowcase with flap is ready.
6. Add Buttons or Snaps
You can add buttons or snaps to the pillowcase to secure the flap in place. If you're using buttons, pick up some matching ones and sew them onto both pieces of fabric. If you're using snaps, attach the snap tape to one side of the pillowcase's edge and then stick the other piece of snap tape on the flap. Connect the two pieces of snap tape, and you're all good!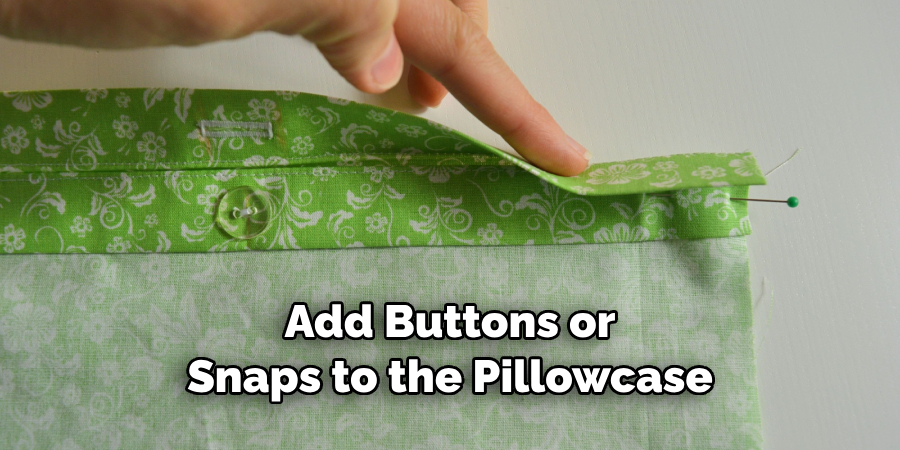 7. Enjoy Your Pillowcase
Now that your pillowcase with flap is ready use it to dress up your bed. It can also be a great gift idea for a friend or family member who loves sewing. Have fun customizing your design with different fabrics and colors.
That's it! You've now learned how to sew a pillowcase with flap. It's such an easy project that you can make several in no time! Once your skill level increases, you can start exploring more complex patterns and designs.
5 Considerations Things When You Need to Sew a Pillowcase with Flap
1. The Type of Pillow You Have
There are many different pillows, each requiring a different type of pillowcase. For example, if you have a down pillow, you will need a pillowcase made from a material that will allow the down to breathe. If you are allergic to feathers, you must find a pillowcase made from hypoallergenic material.
2. The Size of Your Pillow
The size of your pillow will also determine the size of the pillowcase you need. Pillowcases typically come in standard sizes such as Standard, Queen, and King. However, you may need a custom-sized pillowcase if you have a special-sized pillow.
3. The Type of Fabric You Want
Pillowcases are typically made from cotton, polyester, or satin. Cotton is the most popular choice as it is soft and breathable. Polyester is less expensive than cotton but not as soft. Satin is more expensive than cotton but is very smooth and silky to the touch.
4. The Color or Pattern You Want
Pillowcases come in a wide variety of colors and patterns. Choose a solid color, or go for something more flashy with a patterned pillowcase. If you are unsure what color or pattern to choose, consider buying a white pillowcase and fabric markers or paint to add to your design.
5. How Much Money Do You Want to Spend
Pillowcases range in price from around $5 to $30, depending on the size, material, and brand. If you are on a budget, look for sales or coupons at your local fabric or craft store. You can also find inexpensive pillowcases online.
No matter what type of pillowcase you are looking for, consider all these considerations before making your final purchase decision. With the right fabric, size, and design, you can create a beautiful, comfortable pillowcase for years.
5 Benefits of Sew a Pillowcase with Flap
1. It's a Quick and Easy Sewing Project
One of the great things about sewing a pillowcase with a flap is that it's a quick and easy sewing project. You can usually sew one up in less than an hour, which makes it a great project for beginners or for those times when you don't have a lot of time to sew.
2. It's a Great Way to Use Up Fabric Scraps
If you have fabric scraps that are too small to use for anything else, sewing them into a pillowcase with a flap is a great way to use them. You can also use fat quarters or other precut pieces of fabric to make your pillowcase, making this an ideal project for using fabric scraps.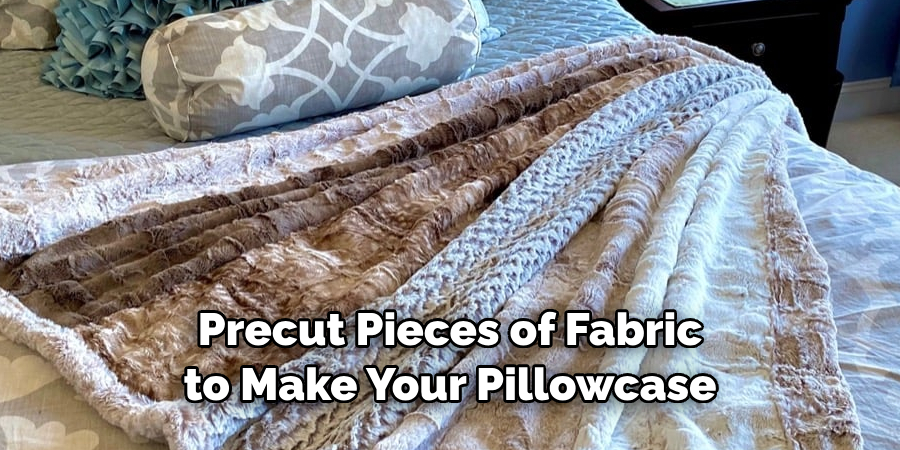 3. It Makes a Great Gift
Pillowcases with flaps make great gifts for just about anyone. They're perfect for kids, adults, grandparents, and just about anyone else you can think of. They're also great gifts for holidays, birthdays, or other special occasions.
4. You Can Make Them in Any Size or Shape
Pillowcases with flaps can be made in any size or shape you want. You can make them square, rectangular, or even triangular. You can also make them in different sizes to fit different pillow sizes.
5. You Can Customize Them to Your Style
Pillowcases with flaps are also very easy to customize to your style. You can choose the fabric, the color, the size, and the shape that you want. You can also add embellishments like buttons, ribbons, or lace to make them your own.
Sewing a pillowcase with a flap is an easy and fun project that anyone can do. Whether you're making them for yourself or as a gift, there are endless possibilities when customizing your pillowcase. With just the right fabric and a little time, you can create something unique and beautiful for years.
Some Common Mistakes People Make When Trying to Sew a Pillowcase with Flap
Sewing a pillowcase is a great way to add some personality to your bedding, but it's also an easy project to mess up if you're not paying attention. One common mistake people make when trying to sew a pillowcase with a flap is forgetting to measure their pillow first. If you don't take the time to get accurate measurements, you'll end up with a pillowcase that's too tight or loose, defeating the purpose of making it in the first place.
Another mistake is forgetting to sew the flap before stitching the pillowcase's sides and bottom. If you skip this step, you'll have a flap that won't stay closed and will end up dangling off the edge of your pillow. Whether you're an experienced sewer or just starting, it's important to take your time and follow the instructions carefully to avoid these common mistakes.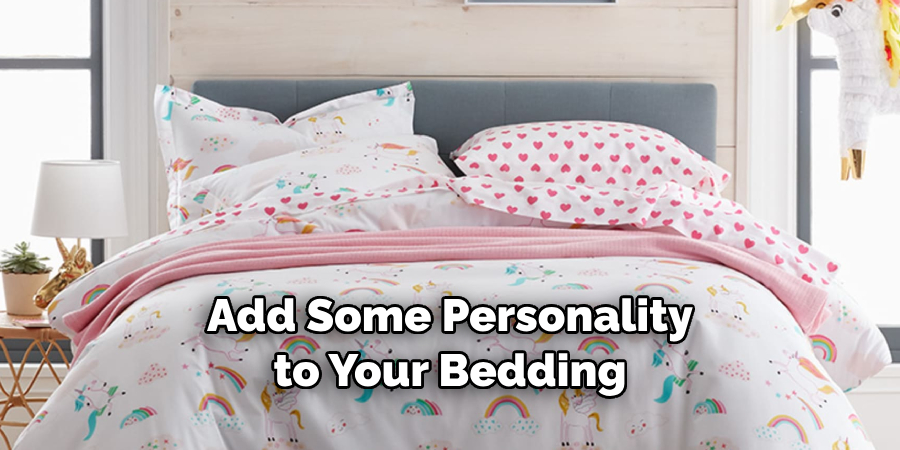 Conclusion
Making your pillowcase can be a fun and rewarding project, and with this beginner's guide, you can create something stylish, practical, and customized to your personality. From choosing the fabric to drafting the flap pattern, these simple steps will give your pillow a new look and create a sense of pride and fulfillment in your sewing skills. Thanks for reading our post about how to sew a pillowcase with flap.