Gifting a crochet blanket is an excellent way to show appreciation and love for someone special. Wrapping a crochet blanket in an attractive manner will add to the presentation of the gift, ensuring that the receiver feels extra special. For gifts, wrapping a crochet blanket is not difficult, but it requires time and care when selecting your materials and wrapping the blanket.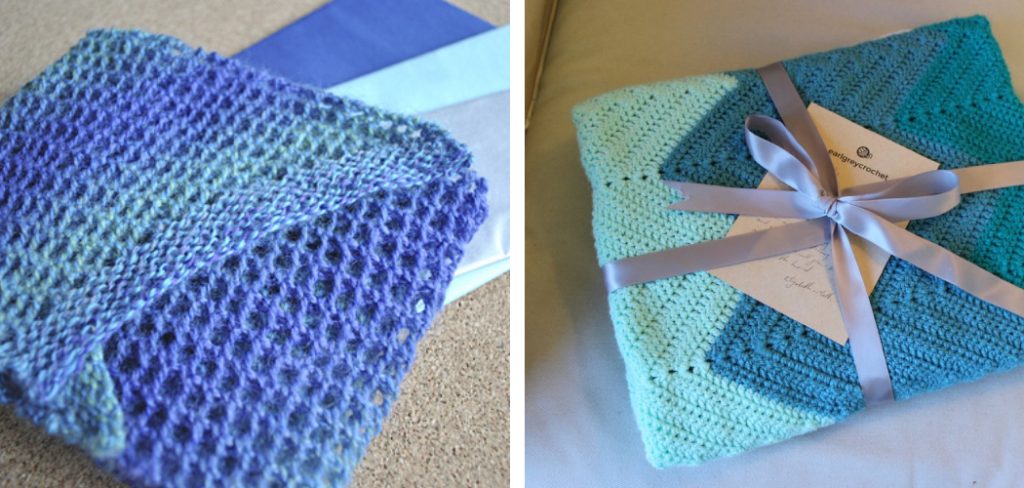 The major advantage of gifting a crocheted blanket is the unique and personal touch it adds. Unlike generic store-bought blankets, a handmade crocheted blanket conveys warmth and love in its making. It's a thoughtful way to show that you care about the recipient.
Gifting a crochet blanket also won't break your bank account, as materials are relatively inexpensive. You can find step-by-step instructions on how to gift wrap a crochet blanket in this blog article.
Step-by-step Instructions for How to Gift Wrap a Crochet Blanket
Step 1: Inspect the Blanket
Before you start, inspect the blanket for any loose ends or flaws that need to be fixed.  This will ensure you don't wrap something that won't look nice. Choose a wrapping paper that complements the colors of your blanket and fits the occasion for which it is being given as a gift. Don't forget to include an appropriate card or tag with a sweet message to the recipient.
Step 2: Place the Blanket on the Wrapping Paper
Cut your wrapping paper to size and lay it out with the printed side down. Put your crochet blanket in the center of the paper. If you're using a present-shaped box, place it in the center of the paper first and then put your blanket over it.
Step 3: Start Wrapping the Blanket
Fold up one side of the paper and secure it with a piece of tape. Make sure that you leave enough slack to fold over the other sides so they are all tucked in neatly without any excess material. You should also avoid wrinkling your blanket as you wrap it.
Step 4: Secure all Sides
Fold the other sides in and secure them with tape as well. Ensure all corners are neat and tidy and the blanket is not wrinkled. Then you can use some decorative items, such as ribbon or twine, to make your gift look extra special. You could even add a few sprigs of fresh flowers or other embellishments.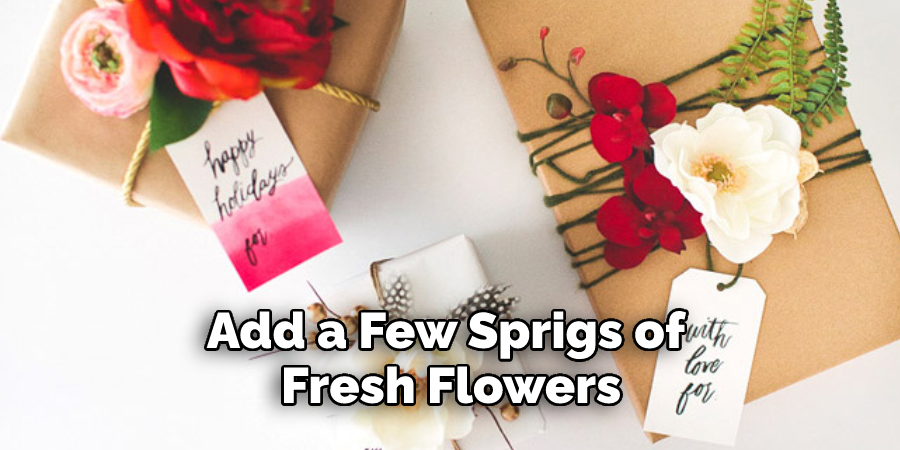 Step 5: Secure the Package with Tape and a Ribbon
Once all your wrapping is complete, secure the package with tape and ribbon. Make sure that none of the edges come loose, as you don't want your gift to unravel in transit! You can also add a special gift tag or card with a heartfelt message to make your presence even more personal.
Step 6: Add a Gift Tag or Card
Once all the wrapping is complete, add a special gift tag or card with a heartfelt message to make your presence even more personal. This will add a special touch to your gift and ensure that the recipient knows exactly how much you care. You can also tie some ribbon or twine around the package for an extra delightful surprise.
By following these easy steps, you can now gift wrap your crochet blanket in style. Remember to take your time and ensure that you leave no detail overlooked so that the recipient will be excited to open their present.
You Can Check It Out to Crochet a Double Treble
Tips for How to Gift Wrap a Crochet Blanket
Make sure the blanket is properly folded and stored before wrapping it up. This will help to reduce creases and other damage that may occur during the gift-wrapping process.
Use tissue paper or a thin fabric, such as muslin, to create an inside layer of wrapping around the crochet blanket before applying gift wrap. This will help to protect the blanket from damage during wrapping and ensure it looks smooth.
Avoid using tape directly on your crochet blanket, as it may leave a sticky residue or cause snags in the yarn. Instead, use glue sticks or double-sided tape around the edges for extra hold.
Choose gift wrap that is not too thick or stiff, as this may cause creasing in the crochet blanket. It's best to use lightweight wrapping paper or a non-wrinkling fabric for extra protection.
Make sure to secure all edges of the gift wrap with tape or glue, so it doesn't come undone during transportation and handling.
Add extra layers of protection around the corners and edges to prevent snags or damage from occurring on the blanket. This can be done with bubble wrap, paper, or fabric.
Use ribbons and gift tags to enhance your gift-wrapping design and add a personal touch to the package.
Make sure to store your gift safely and avoid leaving it out in the sun or in areas with high humidity. This will help keep your crochet blanket looking good for many years.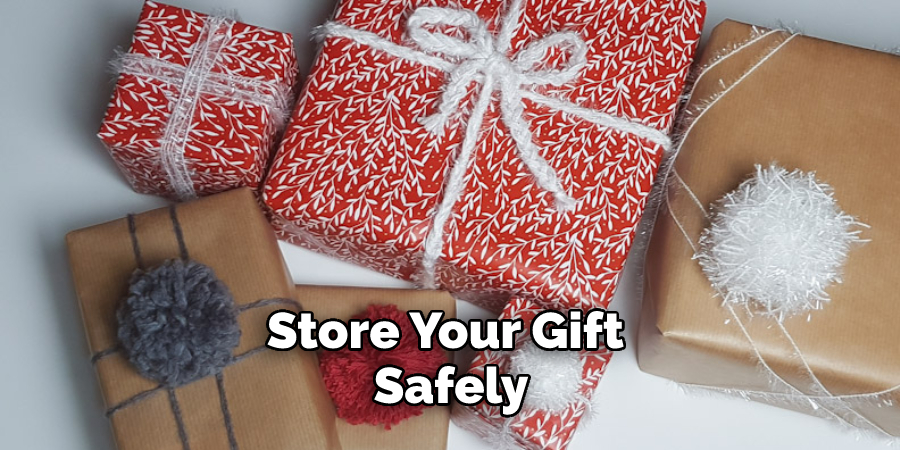 Following these tips will help ensure that your crochet blanket looks great when you present it as a gift! With some practice and careful wrapping, you can easily create a beautiful package that everyone will love. 
How Should You Attach the Ribbon to the Gift Wrap? 
To secure your ribbon in place, you can use double-sided tape or glue dots. Make sure to attach the ribbon to the gift wrap on each side of the corners along the top and bottom edges.
This will help keep your ribbon in place when wrapping your crochet blanket. You can also tie a bow with two pieces of ribbon after attaching it to the gift wrap. This adds an extra touch of style and charm when presenting your gift.
Once the ribbon is attached, you can start to wrap the blanket around it. Start by folding one corner of the crochet blanket over the ribbon and tucking it underneath tightly. Then, fold each side over as if you're wrapping a present.
Make sure to pull the fabric tightly around the corners so that it won't come undone. When you have finished wrapping, tie a bow with two pieces of ribbon to keep your gift securely in place.
How Can You Make Sure Your Gift Wrap Looks Professional? 
Gift wrapping can be daunting, but don't worry – there are some easy steps to follow to ensure your gift wrap looks professional. Here's how you can ensure that your crochet blanket is properly gift-wrapped with care and attention.
Choose the Right Materials: Pick up supplies like wrapping paper, tissue paper, ribbon, and decorative accents from your local craft store or online. Make sure that you have enough materials for the size of the crochet blanket.
Measure and Cut the Wrapping Paper to Size: Wrap the blanket with the paper, so it fits snugly but not too tight. You don't want any wrinkles or creases on the paper.
Securely Attach Your Gift Tag: Choose a ribbon that coordinates with the wrapping paper and add it to the middle of the blanket. If you don't have any, use some spare yarn instead – it looks great!
Securely Attach Your Gift Tag: A gift tag is a perfect way to personalize your gift and ensure that your crochet blanket gets into the right hands. Make sure it's securely attached so it won't be lost in transit.
Use Tissue Paper For Extra Protection: If you want to add an extra layer of protection for the crochet blanket, use tissue paper. It's an inexpensive yet effective way to protect your gift from any bumps or scratches during shipping or travel.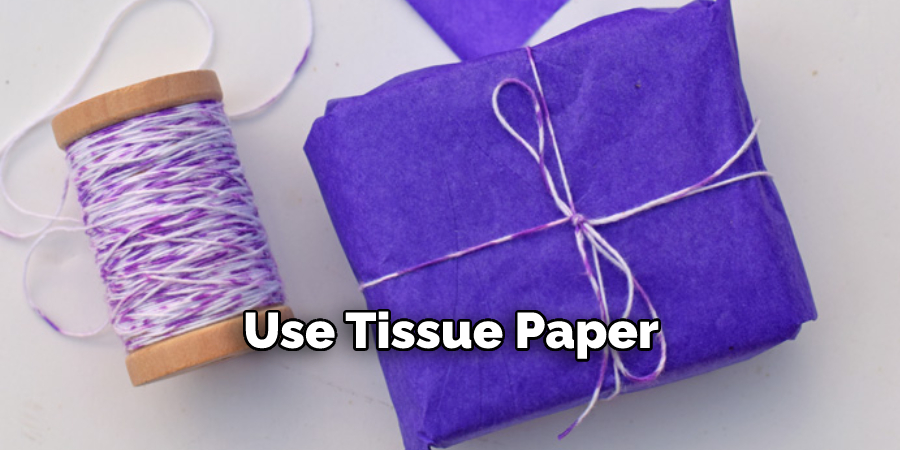 These simple steps will help you ensure that your crochet blanket is properly and professionally wrapped every time. With a little bit of practice, you'll be able to make sure that your gifts look their best every time.
How Can You Add a Special Touch to Your Gift Wrap? 
Start by finding a festive wrapping paper that complements the colors of your crochet blanket. If you're gifting a baby blanket, try using pastel-colored papers or patterns with cute animals. For an adult recipient, choose something more sophisticated, like geometric designs or bold colors.
Measure the size of your blanket and cut out two pieces of wrapping paper that are slightly larger. Lay them flat on your working surface and place the blanket in the middle.
Fold the paper around each side of the blanket, creasing it along its edges to hold it into a neat package shape. Secure the folding with tape if necessary – this will also help hold the paper in place.
Add embellishments such as ribbons, bows, and gift tags to give your gift an extra special touch. Alternatively, you can use fabric paint to write a personalized message on the wrapping paper itself.
Finally, tie a piece of twine or ribbon around the blanket to complete the package. Your extra effort will make your gift look even more special and beautiful.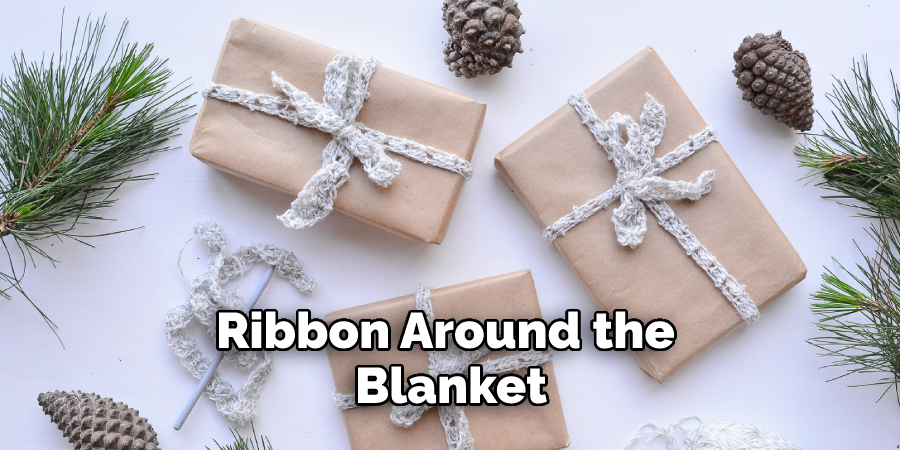 Conclusion
In conclusion, gift wrapping a crochet blanket is an easy and satisfying way to make sure your gift stands out. You only need a few basic supplies, such as scissors, tape, ribbon, or decorative paper. You can also use tissue paper for added effect. 
Follow the simple steps above to create the perfect gift wrap for your special crochet blanket. I hope reading this post has helped you learn how to gift wrap a crochet blanket. Make sure the safety precautions are carried out in the order listed.
You Can Check It Out to Make Cushion Covers