Are you looking for an easy way to transform your home into a cozy and inviting space? Decorating with magnolia leaves might be the perfect solution! Magnolia foliage is so versatile, it can be used as part of both modern and traditional décor. Not only are magnolias beautiful, but their wide range of sizes and colors makes them incredibly easy to incorporate into any room.
This blog post will give you helpful information about how to decorate with magnolia leaves that will make guests feel welcome while adding color and texture to your living space. Keep reading to learn more about bringing these stunning blooms indoors!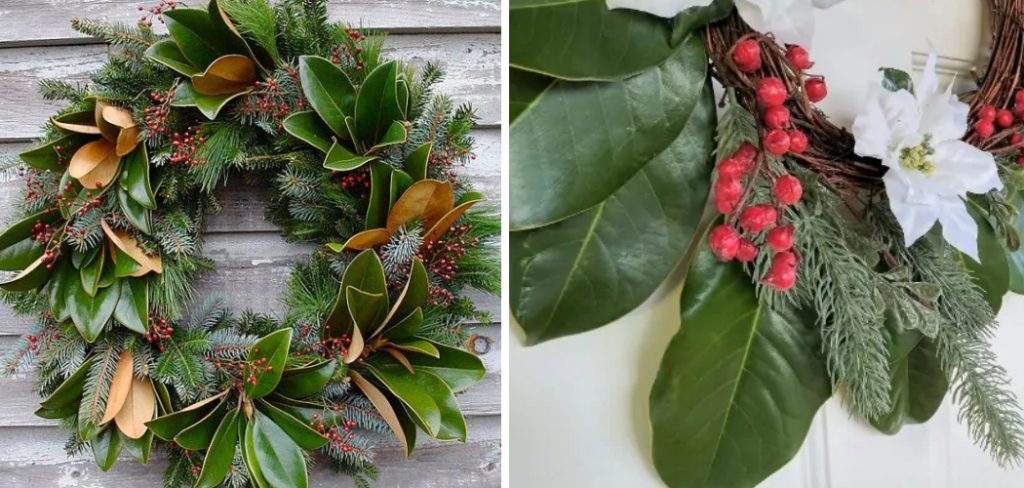 9 Best Ways on How to Decorate With Magnolia Leaves
1. Create a Statement with Magnolia Wreaths:
A magnolia wreath is an excellent way to make a bold statement in any home. Hang one on the front door or over the fireplace for an eye-catching and elegant focal point. They are also great for adding a festive touch during the holidays. This method is perfect for those wanting to make their living space feel more inviting and luxurious.
2. Use Magnolia Leaves as Place Settings:
Magnolia leaves make great decorations for dinner parties or any other special occasion. Place a single leaf on each plate to give your table setting a unique and festive touch. This simple yet beautiful addition will bring an air of sophistication to your next gathering. Using magnolia leaves as place settings is a great way to add texture and visual interest to your table.
3. Add Visual Interest with Magnolia Leaf Arrangements:
Magnolia leaves are perfect for creating stunning arrangements. Place magnolia leaves in a tall vase or bowl to create an eye-catching centerpiece that will bring life to any room. You can use as few or as many leaves as you'd like, depending on the size of your space and how much foliage you'd like to bring in.
4. Create Magnolia Topiaries:
Topiaries are a great way to bring texture and dimension to any room. Gather magnolia leaves into small bunches and then insert them into an attractive container or pot. Place these topiaries around your home to bring a natural and stylish touch. Creating magnolia topiaries is also a great way to show off your creativity.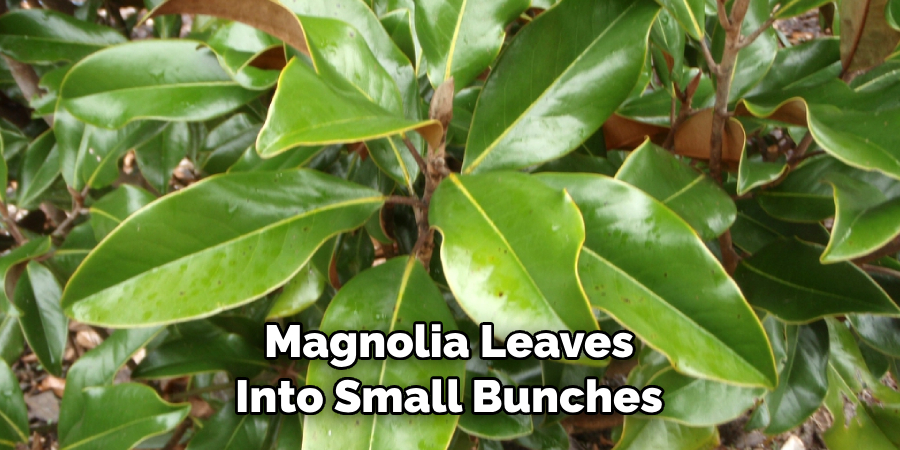 5. Decorate with Magnolia Leaf Pillows:
For an easy way to add an elegant and contemporary flair, incorporate magnolia leaf pillows into your décor. These pillows come in a variety of colors and sizes, so you can easily find something that will fit your home's aesthetic. Use them to add a pop of color to your living space.
6. Make Magnolia Picture Frames:
Using magnolia leaves, you can make beautiful and unique picture frames that will bring character into any room. Find some inexpensive wood picture frames at the craft store and then glue the magnolia leaves onto them for a chic and modern look. This is a great way to display your favorite photos in style.
7. Use Magnolia Leaves as Wall Art:
Magnolia leaves look stunning when arranged on the wall. Find a custom frame that is large enough for several magnolia leaves and arrange them inside of it. Hang this piece of art in a prominent place in your home to bring texture and color to your living space. If you have a large space, you could even create several pieces of art out of magnolia leaves.
8. Display Magnolia Leaves in a Vase:
Magnolia leaves look beautiful when displayed in a simple glass vase. Place them on the dining room table or coffee table for a subtle and sophisticated touch. Or, fill an entire window with magnolia leaves to create a unique and eye-catching focal point. This will add an unexpected but delightful charm to any room.
9. Embellish with Magnolia Leaf Garland:
Magnolia garlands are a great way to spruce up any space in your home. Hang them over the mantel or above the windows for a simple yet attractive look. This is also an easy way to bring some color and texture into a room without overwhelming it. You can also use the garland to decorate for special occasions like Christmas or Thanksgiving.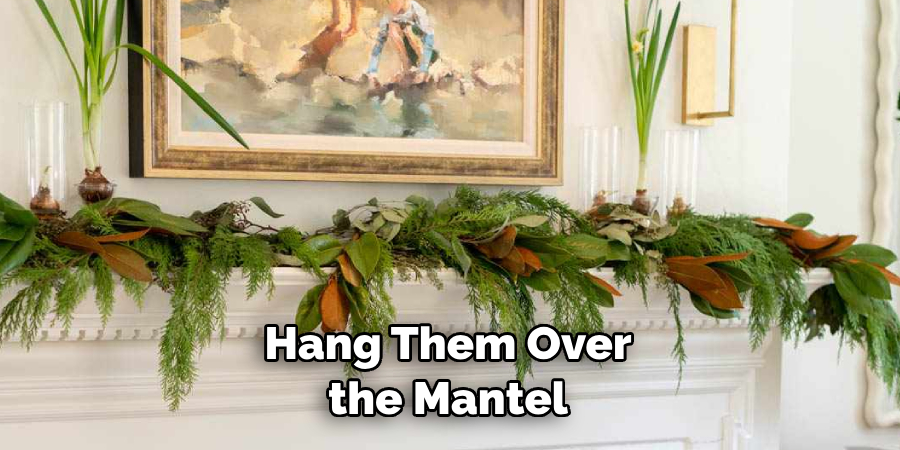 Decorating with magnolia leaves is a great way to add texture and color to any space while creating an inviting atmosphere. Whether you want to make bold statements or subtle accents, there are endless possibilities when it comes to decorating with magnolia foliage. With these tips, you can easily bring the beauty of the outdoors inside your home.
Additional Tips and Tricks to Decorate With Magnolia Leaves
Be creative with how you use magnolia leaves! Try using them as coasters, place cards, or even in a garland.
Use magnolia leaves as part of your wedding decorations by weaving them into garlands for the aisle or hanging them from the sides of chairs.
Place magnolia leaves around candles to create a beautiful centerpiece for your dinner table.
For a stunning outdoor centerpiece, fill a bowl with water and add some magnolia leaves to it to put the finishing touch on your garden gathering.
If you're feeling crafty, try using magnolia leaves and paint to make wall art or framed pictures. You can also use them as part of mobile decorations.
Use magnolia leaves in a mixed bouquet to add texture and depth to your arrangement. The soft colors of the leaves will complement any other flowers you use.
Magnolia leaves can also be used for wreaths or swags – simply hot glue them onto a base and hang them as desired!
Get creative with your tablespace by using magnolia leaves as a table runner or napkin holder. They bring an air of sophistication to any occasion.
Magnolia leaves come in many different shapes and sizes, so you can mix and match them for a unique look.
1Be sure to keep your magnolia leaves looking fresh: mist them with water every few days and store them in a cool, dark place.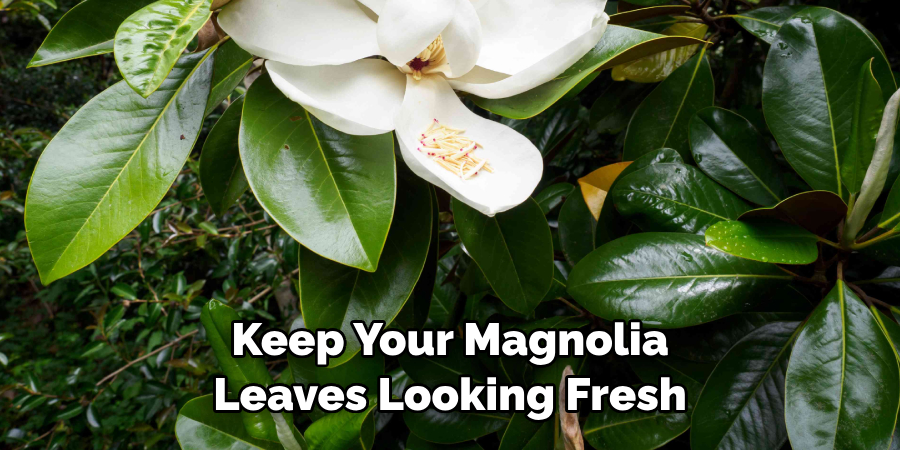 Following these tips and tricks, you can use magnolia leaves to bring a beautiful touch of nature to any occasion. Whether you're creating a festive centerpiece or decorating for a special event, magnolia leaves will always be the perfect choice!
With their unique shape, texture, and color, they are sure to make a statement wherever they are used. So start gathering your supplies and get creative – there's no limit to what you can do with magnolia leaves!
Frequently Asked Questions
Can You Put Magnolia Leaves in a Vase?
Yes, you can put magnolia leaves in a vase. They will last longer if you change the water regularly and make sure they are not sitting in direct sunlight. You may also want to add some floral preservatives to the water to help them last as long as possible. Be careful not to overcrowd the leaves in the vase or they may start to rot.
How Do You Preserve Magnolia Leaves?
If you want to preserve magnolia leaves, spritzing them with hairspray can help. You can also try pressing the leaves in between two pieces of wax paper and ironing them on low heat. This should help keep them from wilting and will give you a longer-lasting decoration. You can also use glycerin to preserve the leaves, by mixing it with water and painting it on each side of the leaves.
How Long Does Magnolia Leave Last?
It depends on how they are taken care of. If you put them in a vase with fresh water and floral preservatives, they could last up to two weeks. If you press them or preserve them in glycerin, they could last for several weeks or even months.
Are Magnolia Leaves Toxic?
No, magnolia leaves are not toxic for humans or animals. However, it is important to note that leaves that have been treated with floral preservatives or hairspray should not be ingested.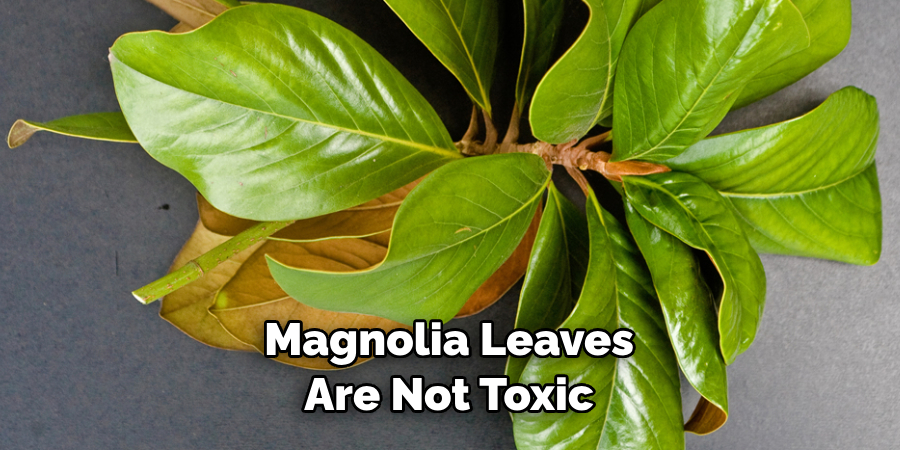 Can Magnolia Leaves Be Used for Crafts?
Yes, magnolia leaves are often used for crafts and decoration. They can be made into wreaths, garlands, and other decorations. You may need to press them or use glycerin to preserve them. Additionally, you can spray paint magnolia leaves for a more colorful look or use hot glue and other craft supplies to decorate the leaves further.
What Other Uses Do Magnolia Leaves Have?
Magnolia leaves are also used as mulch in gardens, as they keep weeds from growing and help retain moisture. They can also be used to make potpourri and as natural incense. Additionally, the flowers of the magnolia tree have several medicinal uses and have been used in traditional Chinese medicine for centuries.
Conclusion
Knowing how to decorate with magnolia leaves can add a beautiful touch to any home. Whether you want to put them in a vase, preserve them for crafts, or use them as mulch in your garden, magnolia leaves are a versatile and easy-to-use decoration. With proper care and maintenance, they should last several weeks and provide an elegant addition to your home.