Displaying pictures for a graduation party is a great way to celebrate your graduate's accomplishments and create special memories to look back upon. It not only allows those in attendance to participate in the celebration, but it can also help capture moments that would otherwise be lost over time.
With so many ways to display photos, you can make your graduation party truly unique and memorable.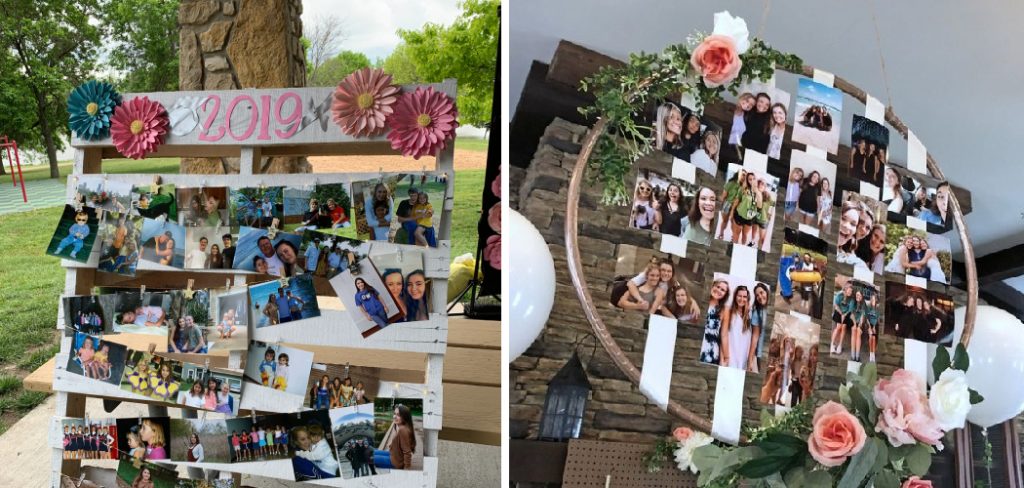 One of the key advantages of displaying photos at a graduation party is that it adds a personal touch to the celebration. Photos can be displayed in many ways, such as on posters, digital boards, or even hung on a wall with string lights.
This allows for an extra decorating element and helps create a festive atmosphere. You can find step-by-step instructions on how to display pictures for graduation party in this blog article.
Step by Step Processes for How to Display Pictures for Graduation Party
Step 1: Inspect the Space
Consider the size and shape of the space where you plan to hang your photos. If it's a small, cozy area, go for oversized prints or frames that add a lot of dimension. Measure out the available space to ensure you get pieces sized just right.
Step 2: Choose Your Photos
After considering the space, select the photos that will be displayed. When choosing photos, it's important to remember the purpose of the display: to celebrate a recent graduate or commemorate a milestone. Choose graduation photos, candid shots from special moments, or pictures with friends and family that bring back memories.
Step 3: Hang Your Photos
Once you've decided which pictures to use, you must decide how to hang them. If you have a lot of photos, consider creating a collage or gallery wall using multiple frames and prints that can be arranged in an interesting visual display.
Step 4: Select Photo Frames
After deciding how your photos will be hung, select the right photo frames for each photo. Consider the overall look and feel of the room, and choose frames complementary to the space. Once you have the right frames for your photos, it's time to mount them on the wall. Depending on how much weight each frame supports, you can use traditional picture hangers or adhesive strips.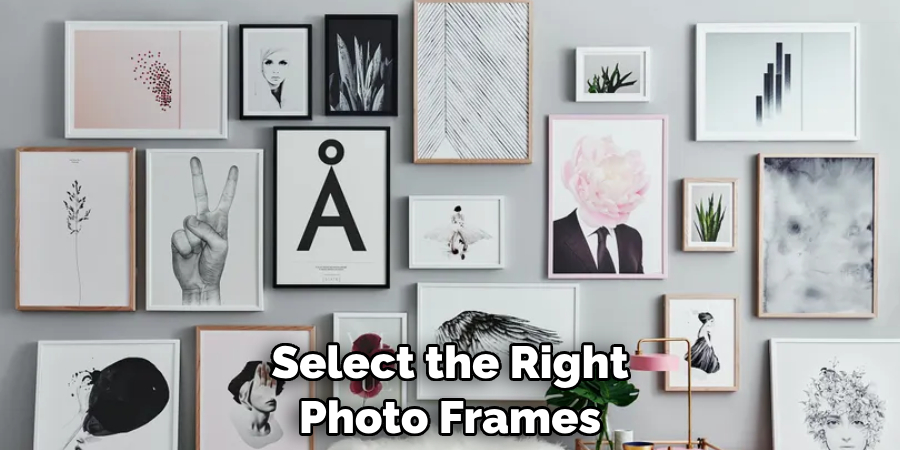 Step 5: Arrange Your Photos
As you arrange your photos, consider the room's overall look and how each photo will fit in with the rest. Leave some breathing room between each piece and arrange them in an interesting pattern or grid. Add some accents like flowers, greenery, or other decorative pieces to give your display a finished look to bring out the colors in your photos.
Step 6: Add Lighting
To make sure that your photos get the attention they deserve, add some lighting to highlight them. Spotlights and string lights work great for this purpose and can be easily installed with a few tools. When hanging photos, it's important to remember to hang them at eye level. This will ensure they are easily visible and won't be blocked by furniture or other objects in the room.
Step 7: Showcase Your Graduation Memories
Finally, stand back and admire your work! Celebrate your graduate's memories with style and pridefully show off their accomplishments. Enjoy the beautiful display of photos you have created.
By following these steps, you can easily display your graduation memories in an eye-catching way that will delight and inspire you for years.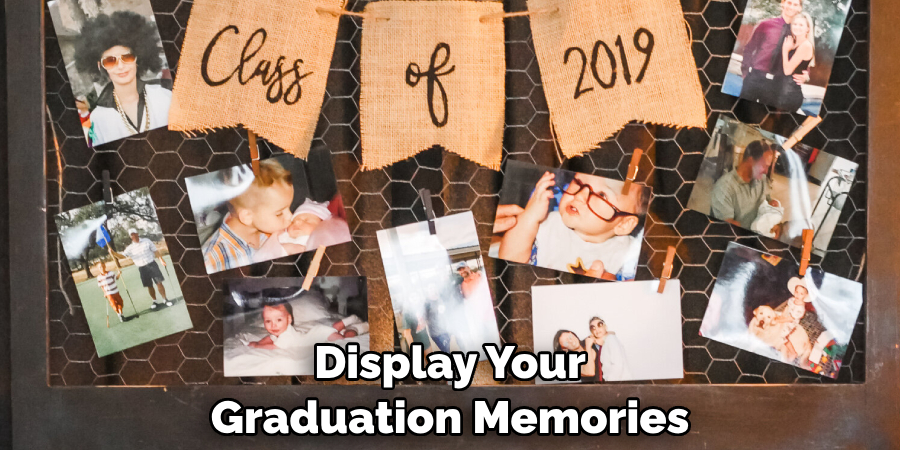 Tips for How to Display Pictures for Graduation Party
When displaying pictures for a graduation party, it is important to ensure that the surfaces where the pictures are displayed are secure and stable. This would prevent accidents if someone were to bump into or touch the display.
Be sure to use non-toxic glues, adhesives, and materials when attaching photos or other elements that you would like to include when displaying pictures.
Ensure that any cords or wires used for lights, frames, and other display elements are kept away from children's reach.
Avoid using flammable materials such as paper and fabric when hanging up photos or other decorations near heating elements or in areas with high temperatures.
Be sure to secure any strings or wires attached to the pictures so they do not become a tripping hazard for guests.
Make sure that the area where the pictures are displayed is free from sharp objects that could injure people if touched.
If displaying photos near food and beverages, use waterproof frames or covers to protect them from possible spills or other damage.
Following these tips ensures that your graduation party display of pictures is a safe and enjoyable experience for everyone involved.
Does the Location of the Party Determine Which Type and Size of Picture to Use? 
When selecting pictures to display at a graduation party, the party's location should be considered. If you are hosting the graduation celebration in a large auditorium, larger and more dynamic visuals will be more suitable.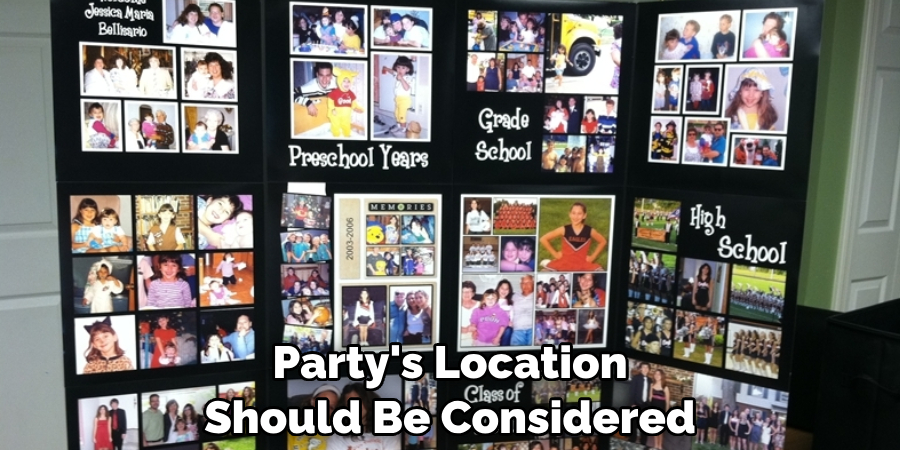 Smaller photos may be better suited if you are hosting it in a smaller space, such as your home or an outdoor venue. Additionally, while some hosts opt for traditional framed pictures to adorn their space, others may display multiple smaller prints in collage.
Whatever photo type you decide, ensure they are properly sized and appropriately placed throughout the venue. Consider displaying your photos using an outdoor photo wall or banner for outdoor venues.
This is a great way to make a big statement with your photos and can be easily customized to include various pictures. If you can access an outdoor projector, you can also display your images in a projected slideshow format.
Are There Any Creative Ways to Display Pictures That Add a Special Touch to Your Graduation Party? 
Regarding graduation parties, there are many ways to add special touches to make the event memorable and fun. One displays pictures from the graduate's life leading up to this big moment.
However, simply using a traditional picture frame or scrapbook for your pictures may not have the impact you'd like. If you're looking for something a little more creative, plenty of other options can make your photos stand out.
One great choice is to use a projector and screen to display pictures from the graduate's life in a big and unique way. This works best if the projector is set up in an area that won't be too bright, such as indoors or in a shaded area. You can also create a slideshow of images to bring your graduate's story to life.
Another creative option is to make a collage out of the photos using poster board and adhesive. You can arrange them in any pattern you like, either on one large poster or several smaller ones. This is a great way to show off the graduate's story in an eye-catching and unique way.
Is It Best to Hang Framed Pictures or Present Them in an Album? 
When displaying pictures for a graduation party, there are two main options: framed pictures or albums. Hanging framed pictures is a great way to create an elegant atmosphere and highlight some of the most special moments from the graduate's life.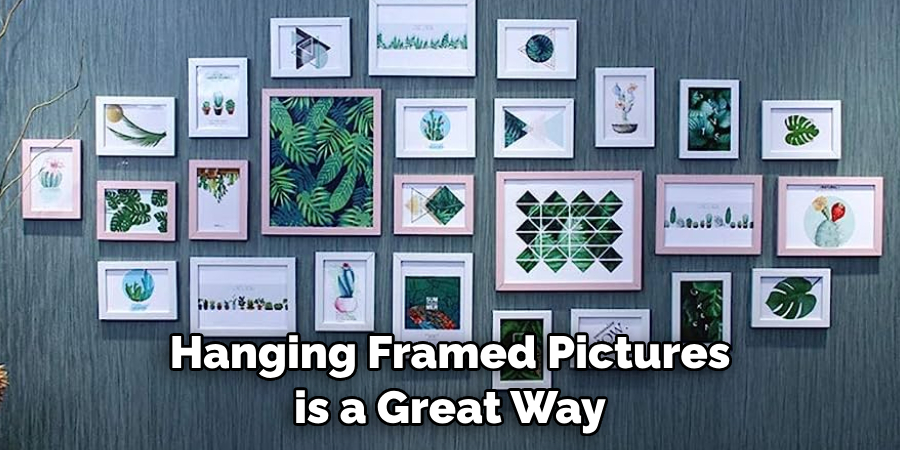 It also allows you to customize your display by choosing frames that match the theme and color scheme of the party. Choose pictures representing important events or memories, like baby photos, school plays, and sports teams.
Presenting photos in an album is a great way to tell a story. You can choose albums with themes that fit your party and customize the layout for an extra personal touch.
This method also makes for easy browsing, as guests can flip through pages and look for special moments. Regardless of your chosen method, be sure to pick out high-quality prints or frames that will last a long time and provide a lasting memory of the celebration.
How Can You Make Sure The Pictures Remain in Good Condition Throughout the Party? 
To ensure that the pictures you display remain in good condition throughout the graduation party, there are a few things you can do. First, choosing a frame that will protect and showcase your pictures is important. Frames made of plastic or metal offer more protection than frames made of paper or cardboard.
Additionally, make sure to place your picture in an area where it won't get bumped by guests, as this can cause damage. If you are displaying several pictures, choose a spot out of the way and not likely to be disturbed during the party.
Before putting them up, you should also use a protective spray on your frames and pictures. This will help reduce scratches and smudges from occurring throughout the event. Additionally, if you plan to move the pictures around during the party, use an appropriate carrying container so they won't get damaged in transit.
Are There Any Special Lighting Considerations for Displaying Photos at a Graduation Party? 
Special lighting can make all the difference when displaying photos at a graduation party. To enhance the aesthetic appeal of your graduation photos, consider adding string or other decorative lighting to the walls or tables where you will be displaying them. You can also use spotlights to highlight individual pictures or groupings of photos.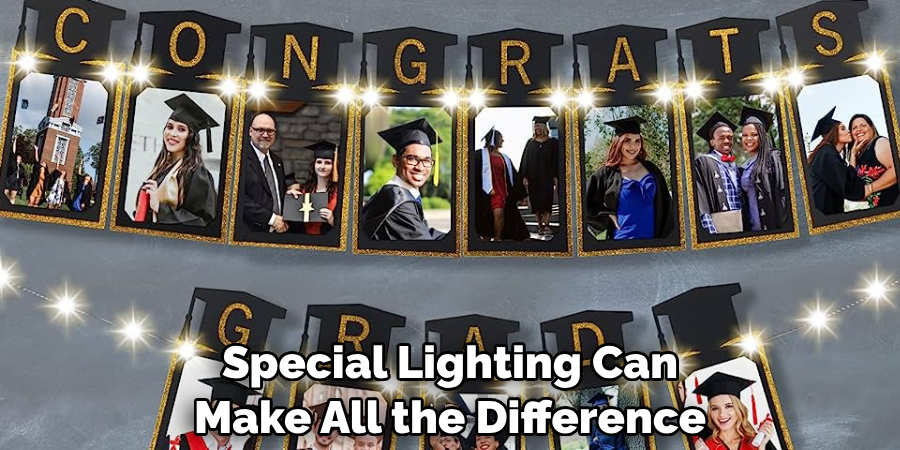 Whatever type of lighting you choose, ensure adequate illumination so guests can easily view the photos. Adjust the brightness level accordingly to avoid creating an overly bright atmosphere. Add colorful paper lanterns or string lights to finish your display in style for a soft, inviting glow. With these lighting considerations in mind, you'll create a beautiful graduation photo display that will be a hit with your guests.
Importance of How to Display Pictures for Graduation Party
Showcase the Accomplishment: Displaying graduation photos is a great way to highlight and celebrate your graduate's achievements. It visually represents the years of dedication, long hours of studying, and countless sacrifices made in pursuit of their degree.
Honor Your Graduate: Showcasing pictures from throughout the school year, or even a lifetime, will honor your graduate and create lasting memories for them and their guests.
Enhance the Decor: Graduation photos do more than just provide a sentimental atmosphere; they also serve as a beautiful addition to the overall decor of your graduation party. Use frames that match the colors of your event or hang picture collages from string lights.
Create Conversation: Photos are also a great conversation starter at graduation parties. Guests can look at the pictures and reminisce about the graduate's past adventures or chat about their future college or further education plans.
Capture Moments: It's impossible to capture every moment of your graduation day, but you can create a beautiful display of memories to share in the future. Pictures on display can help fill in any gaps on your big day and ensure you don't miss a milestone.
Keep it Organized: Displaying photos can be overwhelming, but it can be done well with the right plan and organization. Use removable adhesive strips or picture frames to hang your photos in an easy-to-follow and organized fashion. Also, consider using a photo album or scrapbook to keep track of all the memories from your graduation day.
By following these tips, you will be well on your way to creating an unforgettable graduation party and capturing all the memorable moments.
Conclusion
In conclusion, displaying pictures for a graduation party is a great way to capture all the fun memories of the day. Whether you hang prints on a wall, create a photo booth backdrop, or make a slideshow, there are plenty of creative ways to display your photographs. Remember that some photos may be better suited for certain displays than others, so experiment with various sizes and arrangements.
Additionally, you can customize your display by using frames, props, or other accessories to add a unique touch. Whatever you decide, displaying pictures will help make your graduation party stand out and be remembered for years. Reading this post has helped you learn how to display pictures for graduation party. Make sure the safety precautions are carried out in the order listed.
You Can Also Check This Out to Decorate a Hat for Kentucky Derby Party